My husband wakes up every morning and makes a decision. "What class clothing is this day?"
What he does during the day determines what he wears. When he used to go into an office, the decision was simple. First class clothes came out of the closet. Now the projects he's planned for the day require the right attire too. He's devised a system only understood by himself, o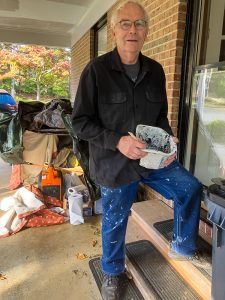 f first second, and third class clothes. 
Trust me, third class ain't pretty.
A few years ago when a big box store closed its doors, my husband called me to a rack of men's work clothes.  
"I think I'll get some of these," he said.
I had something more fashionable in mind for myself. I looked for a close-out price on something in which I wanted to be seen. The thick duck cloth uniform shirts would never have caught my eye, nor figured into the clothes budget I held tight in my little fists. 
"Why? Don't you have plenty of work clothes?"
Work clothes to me were those worn out, frayed, or stained second rounds, somewhere between rag and Goodwill. Spending money on purpose for work clothes to get dirty seemed a little redundant in my opinion.
But, he was remodeling our house, knee deep in ceiling, flooring and duct work.   
"I go through so many sets of shirts in a day," he said, "these will hold up through oil, painting, and mudding." 
I knew pretty much the truth of this as I washed piles of smelly dirty clothes for him to make into piles smelly and dirty again. 
"If you think they would be helpful," I responded absent-mindedly. My eyes had taken in a sale sign in the women's section. I headed toward them.
It's ten years later. Ten years. My husband grabbed one of those thick black shirts from our closet this morning, shoved his arms in and buttoned up. The work shirt is as tough and black as it ever was, except for the splotches of white paint against its background. It's been washed 1,000 times. I haven't actually counted, but I'm pretty sure. 
He'll wear it a couple of hours, then he will throw it in the hamper, much too wet with sweat, and put on a different shirt. 
But I suspect that black shirt's rough feel early in the morning speaks of freedom to rip, pound and drip. It brings an urge to get to work, a certain allowance to merge expectations of what he is wearing with what he's doing.  
A bit like our walk with the Lord. 
In the third chapter of Colossians, Paul lists things to take off, (Colossians 3:5-11) like those dirty work clothes that land in our bathroom hamper. Paul's checklist strips off filth and impurity. He talks about actions not fitting those clothed with Christ's righteousness. And once rid of those, he provides a clean new set to put on, ones that don't come naturally.  
"Therefore, as God's chosen people, holy and dearly loved, clothe yourselves with compassion, kindness, humility, gentleness and patience." Col. 3:12 NIV
Many would frame these five character qualities through grids other than the truth of God's Word. 
The Apostle Paul, writing to the believers in Colassae, reminds them how God sees His chosen people. He sees us holy and dearly loved, making compassion, kindness, humility, gentleness and patience an outpouring of His spirit within us. He stripped away the splotched decay of sin we once wore. He sees His children clothed in His righteousness.  
"…as God's chosen people, holy and dearly loved, clothe yourselves…"
Compassion
Kindness
Humility
Gentleness
Patience
Paul never minced words. He didn't excuse sin, but defined transformed character. He named what no longer belongs within us, those third class emotions and actions, and beseeches us to wear the clothing of righteousness. Only salvation in Jesus cleans us from the inside out. 
This early morning I look out my window and see my husband coming from what he terms his "prayer stump." It's a hewn log where he sits to pray for his family. We've fruitfully multiplied, so he's there often and long enough for the wildlife to know him by name. 
He walks toward the house. Blotches of white and black paint contrast against the denim and duck cloth of his third class clothes. Ah yes, today is a painting day. Third class clothes on a first class guy. Not bad. I think it's gonna be a great day. 
"I will greatly rejoice in the Lord,
My soul shall be joyful in my God;
For He has clothed me with the garments of salvation,
He has covered me with the robe of righteousness,
As a bridegroom decks himself with ornaments,
And as a bride adorns herself with her jewels." Isaiah 61:10 NKJV