Before farms had fashionable "mud rooms," they existed.
"Don't you come in the front porch," my mom insisted to my black-dirt-clothed brothers before supper. Because of course on the farm we had suppers not dinners, and dinners instead of lunches.
My three brothers heavy with the weight of a mixture of wheat dust, sweat and a tainting of manure thrown in for authenticity shuffled to the back porch. There they left what they could without coming in indecent.
Our front porch maintained visitor friendliness, but the back had the real stuff. There was an old sink, soap, and next to the washing machine a corner held a holding tank for dirty clothes as big as a wheat bin. That pile of sweat drenched denim and t-shirts smelled like a hard day's work that only a good shower could rid.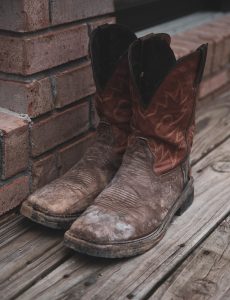 Every time I saw my brothers come through the back, tired and mud-caked I was glad God made me a girl.
"Therefore put away all filthiness and rampant wickedness and receive with meekness the implanted word, which is able to save your souls," James, the half-brother of Jesus wrote in James 1:21. (ESV).
Like the mud room of our lives, the picture James paints is one of stripping off dirty clothes, getting rid of the filth and putting off immorality and ungodliness. Such grime was characteristic of our lives before Christ. Growing up in a household with the Messiah, James surely was acutely aware of the contrast.
How ridiculous it would have been after a cleansing shower,
a good soap-scrubbing and squeaky-clean-shampooed hair for my brothers
to reach back into the mud room and dress again in those discarded filth crusted clothes.
Why would anyone want to?
Why do we?
Our tendency to slip and slide into a lazy exchange of mud room castoffs contrasts with the implanted word.
For when we are refreshed daily in His word our desire to exchange glorious clothes of righteousness for a pile of filth weakens.
The implanted word sown in humble heart soil produces fruitful spiritual growth.
What happens on the back porch should stay on the back porch where it belongs.
What follows will flourish.
Now it's your turn. What encourages your own spiritual growth?
"For our sake he made him to be sin who knew no sin, so that in him we might become the righteousness of God." 2 Cor. 5:21; ESV.