"Are we there yet?" little voices once asked from the back seat. 
Years slipped by, like miles passing underneath. Complaints changed, the questions grew more sophisticated, and the voices more mature. Yet, spoken or implied, my children measured distance by "are we almost there yet?" 
Life's value is often judged less by roads covered than those still to go. 
My husband and I just returned from an east-coast to mid-west road trip. No impatient questions interrupted from the back seat, "are we about there?" As the countryside went from hills covered thick

with trees to flat lying plains, and back again, no voices asked "how much longer," or "are we getting close?"
Except our own. 
We are in a "not-quite-there-yet" stage of life. Perhaps one of the greatest struggles we've ever faced fights inside. It probes the past and measures our future. It searches for significance and value on both ends. My husband and I aren't alone in this troubled questioning.
"Do not cast me off in the time of old age; Do not forsake me when my strength fails." Psalm 71:9 NKJV
The Psalmist's prayer pleads that God would not cast him off, set him aside, or deem him invalid as if too many miles have passed under feet, with not enough left worth traveling.
The elderly writer confronts such feelings with bedrock truth. A faithful God whose hands birthed him, and taught him in his youth, will not forsake him as years mount. 
"By You I have been upheld from birth, You are He who took me out of my mother's womb." (Verse 6)
"You are my trust from my youth." (Verse 5) 
Our repetitive whining, "are we there yet," shows how desperately we desire a valid road ahead. We need to believe God will not abandon us to uselessness. 
"Now also when I am old and grayheaded, O God, do not forsake me, Until I declare Your strength to this generation, Your power to everyone who is to come." Psalm 71:18 NKJV
Sometimes seasoned travelers face a future uncomfortable, unsure and wobbling without purpose. The Psalmist admitted it. The autumn of life tore into his importance and validity. The author concedes these realities, while honoring God's plan to proclaim God's faithfulness in every season. 
What gave the Psalmist impetus until journey's end? 
Declaring God's strength to this generation.

 

Declaring God's power to everyone who is to come.

 
The vibrancy of yesterday's strength fades. Power, once demonstrated through status, work or position evaporates. Yet, this gray haired writer found purpose by passing down God's strength and power. He shifted his eyes from self to look back through the eyes of a trustworthy God. 
"For You are my rock and my fortress." (Verse 3)

 

"For You are my hope, O Lord God." (Verse 4)

 

"You are my strong refuge." (Verse 7)
"Your righteousness, O God, is very high." (Verse19)
"You have done great things. (Verse 19)
"You comfort me on every side." (Verse 21
A God faithful in the past journey can be trusted the rest of the way. 
Generational mentoring, instituted in the Old Testament, continues as a teaching in the early church. Titus 2 presents a model of older men and women teaching younger men and women. In 2 Timothy 2:2 Paul writes, "And the things that you have heard from me among many witnesses, commit these to faithful men who will be able to teach others also." (NKJV)
 Trials of life become part of our ministry. 
Happenings which seem little or insignificant become testing laboratories for someone else. They speak of God's unchanging character from generation to generation and fulfill a divine plan by powerfully demonstrating God's faithfulness throughout time.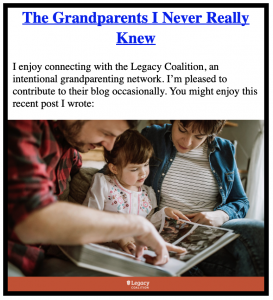 "My mouth shall tell of Your righteousness, And Your salvation all the day, For I do not know their limits. I will go in the strength of the Lord God; I will make mention of Your righteousness, of Yours only." (Verses 15-16)
I've been both convicted and encouraged by Psalm 71. I identify with the Psalmist's old age concerns, and rejoice with him in his confidence and prayers. In a sense I feel myself sitting in his back seat.   
"Are we there yet?" at times I may wonder. 
But, I know where I'm headed. I know Who went before goes with me now.