"Would you rather be a bullfrog?" I ask my grandsons. 
My finger dramatically lands on the big green bullfrog leaping across the left side of the page. The book with the same title, by Theo. LeSieg (better known as *Dr. Seuss,), lays open on my lap. I slide my finger to the right and I point out our dilemma…"or be a Butterfly?" 
I sit in the middle. 
The great pacifier connoisseur, having chosen wisely a vintage piece over one of the newer pacifiers, sits on one side. While he messes with his toes, a frown puckers his forehead.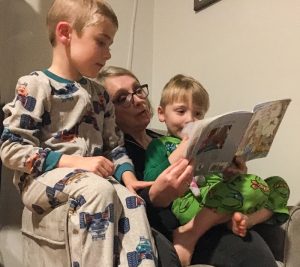 Leaning hard against me on the other side is the one-handed hair twirler. His unique talent is a bit like patting the head while rubbing the tummy. Blonde hair flicks in and around the fingers up top his head, while at the same time, two fingers stick in his mouth like a popsicle on a hot day.  
I'm surrounded by rhythmic slurps.   
They get serious about the choice proposed by Seuss. Still battling from page one with the dog or cat quandary, we are now faced with another important decision.  
Do I really need to choose between things like Bloogle Birds that sing and Bumble Bees that sting? Must I really pick being a table or a chair? Why am I troubled about This Thing or That or the Thing that's in between? 
I mean, I already find decisions difficult. My own son avoids ordering food from a drive through with me, and therein lie really big decisions, like meal number 2 or number 4.
Recently our church community group played a little game of "Would You Rather." It stemmed from the pastor's sermon which introduced the book of Ruth. 
Naomi and her husband, Elimelech with their two sons chose to leave Bethlehem and go to a pagan country. Their widowed daughter-in-laws chose different paths. Orpah remained in Moab. Ruth chose to adopt the nation, people and God of her mother-in-law. She left for Bethlehem. Ruth chose Boaz's field. Boaz chose to redeem Naomi's field and marry Ruth. 
All the choices had consequences. 
The Bible is a book concerned with divine choices that have eternal consequences. The "would-you-rather's" are lasting and deep.    
The Psalmist declared,  "For a day in Your courts is better than a thousand.
I would rather be a doorkeeper in the house of my God than dwell in the tents of wickedness." Psalm 84:10 NKJV
Moses "refused to be called the son of Pharaoh's daughter, choosing rather to be mistreated with the people of God than to enjoy the fleeting pleasures of sin."Hebrews 11:24-25 ESV
Paul struggled with this paradox, "For to me, to live is Christ and to die is gain. If I am to go on living in the body, this will mean fruitful labor for me. Yet what shall I choose? I do not know! I am torn between the two: I desire to depart and be with Christ, which is better by far; but it is more necessary for you that I remain in the body." Philippians 1:21-23 NIV
Peter when on trial for the gospel chose faith against freedom, "We must obey God rather than men." Acts 5:29 ESV
What "would you rather" games do we play? And what spiritual impact do those choices make on our walk with Jesus? 
Things like would I rather be considered out of touch because I haven't joined in something which might possibly compromise my convictions? Would I uphold Biblical truth at the risk of an unpopular label? Would I rather build a family or a dynasty? Or would I rather be looked on as lacking compassion or standing for what is right? Would I rather be a bad guy and say "no" to my kids than promote a lifestyle which in the end will lead them away from Jesus? Would I rather be considered a friend of the world than a friend of Jesus?
History records many early Christians in the New Testament, beheaded, stoned, eaten by lions, lit for torches lining Roman streets, hung, and cut in two. Somewhere along the line they had responded to the question that took them there. Would you rather? 
Their answer?  
I'd rather have Jesus than anything. 
Ruth's choice wasn't comfortable or safe. It was neither self-serving nor easy. But it was the right thing to do. 
This was her answer to "would you rather."
"Wherever you go, I will go; and wherever you lodge, I will lodge; Your people shall be my people, and your God, my God. Where you die, I will die, and there will I be buried." Ruth 1:16-17 NKJV
Ruth became great Grandmother to King David and her name is listed in the genealogy of Jesus. (Matthew 1:5) She chose wisely. 
Would you rather be a bullfrog or a butterfly and the choice of buffalo sauce or ranch pale in comparison to the bigger picture question. We must choose wisely in a world which offers life, but gives the opposite. 
Jesus said to him, "I am the way, and the truth, and the life. No one comes to the Father except through me." John 14:6 ESV
What would you rather do?  
---
*Suess, Dr. Would You Rather Be a Bullfrog, New York and Canada: Random House, 1975
*photos by Philip Schroeder