From the back of the car, three kids sang with megaphone voices. 
"Do everything without complaining, do everything without arguing, so that you will become blameless and pure, children of God." 
Ah yes, I loved teaching my children Scripture songs because they needed them so much. 
Blonde heads swayed right and left along with the rhythm of the children's song. Little bodies jerked to the beat, bang against the seat belts, splat against the seat. Cornfields, green and tall surrounded our view front, back and side like the Atlantic Ocean we'd flown over, as far as the eye could see.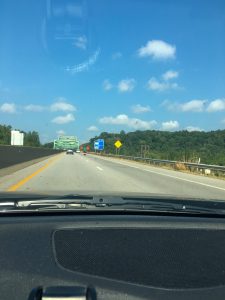 From Italy to Iowa. 
Or was it Indiana? 
No, I do believe it could have been Illinois. 
We were in smack dab in the middle of Home Ministry Assignment. 
"Where do you live?" the sweet older gentleman asked my six-year-old. 
"In the car," she answered. 
In three months we drove across the USA telling churches, gatherings and anyone who would listen about life and ministry overseas. Our kids ate food foreign to them, slept in different beds, and met more people than many meet in a lifetime. We shared our lives, hearts, laundry and the flu. 
"Do everything without complaining, do everything without arguing," they sang. 
Phil and I sang along. We grinned at each other sideways, a parental understanding passed between us. 
But we still had miles to go, fights to be fought. 
"so that you will become blameless and pure, children of God." 
Their voices reached pinnacles as high as the tower of Pisa.
"Without complaining without arguing, do…do EVERYTHING."
What a great verse for these kids, I thought, satisfied and pleased at the quiet ending. 
And then it began.
"She touched me."
The road stretched ahead like the grumbling Israelites' 40 year walk around the desert. It would have been a great song for the Israelites. 
"She looked at me."
I pursed my lips.  
"MOOOOOM!"
I was a tired missionary desiring to appear saintly by the estimated arrival time at the next church about 20 minutes away.  
"Do all things without complaining and disputing…" Paul apparently thought it was a good verse for all of us. (Philippians 2:14 NKJV).
And he was right. 
"without complaining" Goggysmos. The Greek word sounds like what it means. Muttering, complaining, grumbling. MacArthur calls it "an emotional rejection of God's providence, will, and circumstances for one's life." 
The backseat filled with goggysmos commotion about to drive me around my own goggysmos bend. 
But in the original text, the word is not just external but internal as well. A secret debate, a secret displeasure. Like the internal conversation in my mind only God hears. 
"without disputing" Dialogismos is much like our English word "dialogue." It's inward reasoning, an internal debate, questioning, perhaps even criticizing God. 
The book of James says the tongue is a world of evil, humanly untamable, and full of deadly poison. Proverbs 18:21 teaches that death and life are in the power of the tongue, and Ephesians 4:29 commands the believer to not allow corrupt communication out of your mouth. 
The situation behind me slid down a slippery slope. Front seat adult-land was heading in the same direction. We were all tired. Being good can be exhausting. 
It's a baby step from spewing what's inside outside. 
"So that you may become blameless and pure…"
Becoming is a process. Growth for the believer never stops. It's a vital part of spreading the gospel in every place God plants my feet. 
"… children of God without fault in the midst of a crooked and perverse generation, among whom you shine as lights in the world…" Phil. 2:15 (NKJV).
As our crooked and perverse generation becomes more and more crooked and perverse, becoming more and more like Christ in our speech, thoughts and actions contrasts radically. We shine bright in a very dark world. Living outwardly Christ's transformation within us testifies of His power to grow us to be more like Him.  
I need to get that goggysmos sounding dialogismos that's happening inside snipped in the bud if I want to demonstrate Christ's character to the world. 
Today I find myself humming the melody of a children's song from years ago, grateful for the renewed whisper of the Spirit convicting me of these truths. It reminds me there is hope in the process of becoming.   
(Taken from my previous post Become is a Process)
Don't miss my articles:
at In The Quiver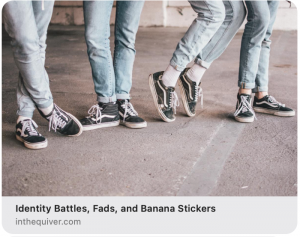 at Bible Study Tools