"If a tree falls in a forest and no one is around to hear it, does it make a sound?"
I've not lived a long time in Virginia, but in the time I have, I've seen a lot of trees. Coming from the broad mid-west where storms were fierce and majestic, I feel like the tightly spaced trees in Virginia need to learn how to stand strong and dig deep. 
The soil is different from what I grew up with, red like Oklahoma, but dense like Clay County, Missouri where we last lived. The storms here are swift and don't build up with the same sort of brewing anticipation. I miss the grandeur of towering thunderclouds, fierce wind and lightening.  But nonetheless, the storms here are effective in breaking branches, uprooting trees and causing power outages. 
After a recent storm which passed by almost before I got to the window to watch, I walked through my neighborhood. The damage amazed me. I saw at least four downed trees with mammoth uprooted saucers of red dirt clinging feebly to their roots. 
Others lay with broken trunks and branches ready to fall. Some on the way down destroyed others. The woods looked like a maze of intersecting lumber.  Limbs, torsos of torn trees, and scattered boughs needed to be cleared. Power saws buzzed in nearly every direction. 
As I walked I found myself humming an old Fanny Crosby hymn, Rescue the Perishing. 
"Rescue the perishing, care for the dying. Jesus is merciful. Jesus will save."
I walked the same route later and again saw deep inside wooded areas tops of trees sheared off leaving jagged stems and remnants haphazardly crisscrossed against each other. 
Big sections of downed trees, their leaves brown and dried leaned half on the ground half hanging in the air. I imagined the tearing sound of wood cracking, splitting, and crashing.
"If a tree falls in a forest and no one is around to hear it, does it make a sound?"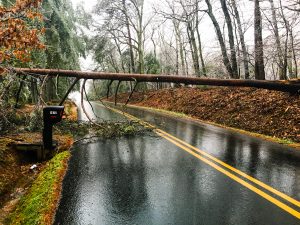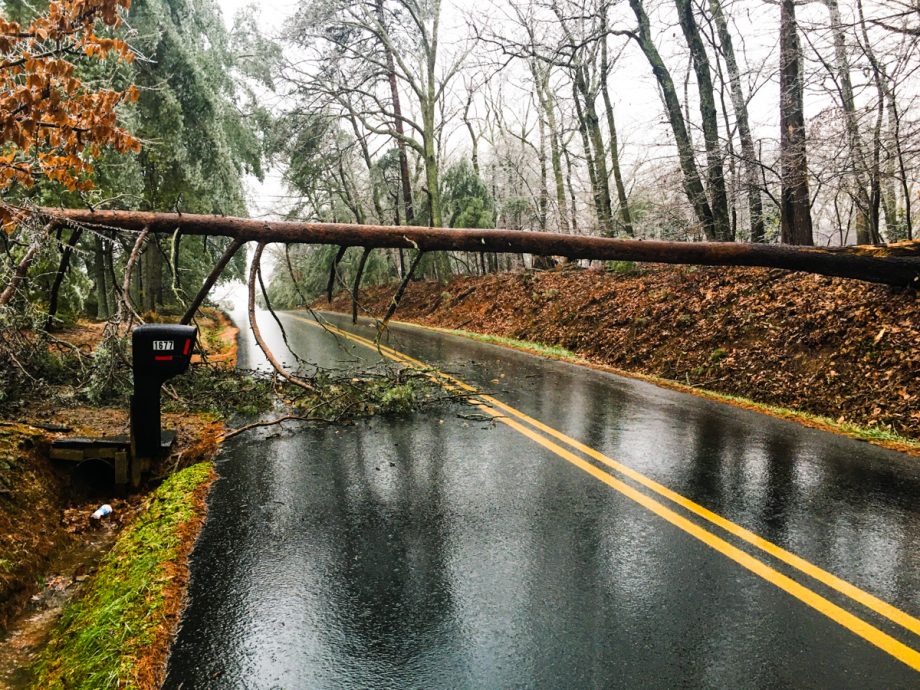 When I was in grade school our teacher did his best to convince his students that if a tree fell in the woods but no one heard it, it made no sound. I remember how we sat at our blonde wooden desks, the boys in plaid shirts and girls with long braided hair. We looked at one another incredulous. 
Could he be right? Behind our wide eyes, inside our heads, we could all hear the sound even in the classroom. It tore and ripped and fractured in our minds. Country children, we could imagine it so surely, we had no doubt, the city teacher had lost his mind and his hearing went with it. No tree could fall silently. 
"Weep o're the erring one, lift up the fallen. Tell them of Jesus the Mighty to save."  
My neighborhood is mostly cleaned up now, but there are still chunks of dried tree lying haphazardly like slain soldiers on a battlefield. 
The scene reminded me of a dear fellow minister of the gospel who is, I fear, a bit like the giant dead branch I see toppled beside its trunk. His winds are stormy. Doubts hammer away at every spiritual root which once held strong. He is severed from his local body of believers and his spiritual growth has become like brown brittle leaves. 
"If a believer falls and no one is around to hear him, does he make a sound?"
Does the church hear?
But, we need not despair the Apostle Paul writes. 
"We are afflicted in every way, but not crushed; perplexed, but not driven to despair; persecuted, but not forsaken; struck down, but not destroyed; always carrying in the body the death of Jesus, so that the life of Jesus may also be manifested in our bodies." 2 Corinthians 4:8-10 ESV
We must remember and remind one another. The faith of one aids and strengthens the faith of another.  
"Down in the human heart, crushed by the tempter, feelings lie buried that grace can restore; Touched by a loving heart, wakened by kindness, chords that were broken will vibrate once more."
This is our time to stand bold, to make sure the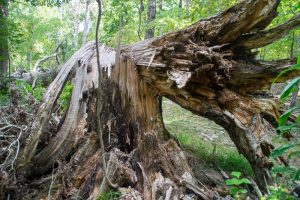 name of Jesus is heard, to clear the debris from our lives and help lift up the fallen. People need Jesus. 
"If a tree falls in a forest and no one is around to hear it, does it make a sound?"
I'm off for my morning walk. And the old hymn cycles its way around inside my head.   
Rescue the perishing, care for the dying,
Jesus is merciful, Jesus will save.
-Fanny Crosby
If you know it, hum along or go ahead and belt it out to the world.