The last week of December always feels a little like an in-between to me. It's between holidays, months and years.  
Akin to adolescent years, somewhere between child and teenager, life has a lot of uncomfortable in-betweens, like the "uberty" one of my young nieces recently admitted to being in. "Uberty" is not a good place to be, but it's a pretty great description of that awkward in-between stage.  
 All the half-ways, on-the-ways, almost but-not-quite-yets, are not exactly sad but not yet happy waiting rooms. Impatient wandering circles, like Israelites on their way to the promised land, everyone ends up there at some time.   
Tante Anna and Tante Rose, two of my aunts, one never married and one without children, had lengthy discussions about me when I hit "uberty." I was of course present for these which ping-ponged back and forth above my blonde hair.
They despaired of pretty much every piece of me from skin to height to color. 
My parents with their German background called those not quite teen years the Esel Jahre, or donkey years. Mom and Dad assured me I would grow into my nose and ears, donkey years would end, and with it Grossvater's resemblance. 
These observations come of course from an almost teenager already in the grip of awkwardness, so they may be skewed.  
We don't have much information about Jesus' growing up years except for one heart-stopping story. When Jesus turned twelve, His parents lost Him. 
Mary and Joseph went to Jerusalem every year for the Passover. That year after a day of travel, on the way home Jesus was not to be found. His mother and father looked everywhere for Him. They searched frantically among his relatives in the caravan going back home to Nazareth. Finally, Mary and Joseph turned back to the city they'd just left to search.
After three days Mary and Joseph found Him.  
Three days. 
They must have been almost out of their minds with worry. And when they finally found Him, unperturbed discussing Scripture with the teachers in the temple, they landed somewhere between overspilling relief and frustration. 
"and His mother said to Him, "Son, why have You done this to us? Look, Your father and I have sought You anxiously." 
But Jesus wasn't lost. They were. 
"Why did you seek Me? Did you not know that I must be about My Father's business?" Jesus asked. Luke 2:48-49 NKJV
He was right where He was meant to be. 
If we are honest, we all face times when spiritual growth hits a wall of "uberty."  There is January chill when we want June's warmth and substance. We wander in circles of where we want to be with Jesus. And the crazy thing is, sometimes after the frantic busyness of a season celebrating Jesus' birth, He seems to be missing. 
  And a New Year is about to begin. 
Mary and Joseph didn't understand Jesus' words and actions, as He sat listening and talking with the temple teachers. But the picture of how they found Him remained. His mother kept and treasured its snapshot in her heart. He was where He belonged doing what His Father asked.  
When the embers of our faith need fanning, when we wonder where Jesus has gone, it is the time to be where God can speak to us. Open the Word. Talk to the Father. Find fellowship with other believers. Be where you learn spiritual truths. Set our minds where the Father resides.  
Jesus went home with his earthly parents, Mary and Joseph. He, God's Son obeyed them, and waited through childhood, puberty and young man-hood until in the time God appointed to begin his ministry. And at each juncture, in every moment of His walk on our earth, He submitted Himself to His heavenly Father.  
"And Jesus increased in wisdom and stature, and in favor with God and men." Luke 2:52 NKJV
A new year isn't like lining up at the start of a race waiting to hear the sound of the pistol,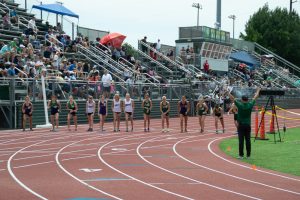 rather its a reminder to keep running, to keep going another lap. Keep digging, keep plugging, keep plodding. Do what is right today. The ungainly stage of "uberty" means growth is ahead.    
Jesus wasn't lost at a manager, at twelve or at 30. Nor is He lost now. God is never absent. He works throughout the in-betweens. He knows the need of our hearts and He cares.