It happens every year.
It's like trying to finish off the Christmas cookies, fudge and eggnog so I can start dieting in January. It's such a burden.
But perhaps none quite so marked as this New Year with its old past.
How does one celebrate beginnings while dragging weights that aren't yet ended? Can a new calendar page obliterate an old year?
Difficult as 2020 was for me, I've had worse, and the residuals of that long ago year with its darkness still cause me at times to hold my breath and question when the other shoe will drop. It carries fear of whether I will be able to survive if it does.
For so many this past year held BC and AD lines drawn into the sand of time. It pivoted innocence of what is to what once was. It marked before crisis to after devastation.
But, for a lot of us, the year's toll came from uncertainty, disruption and fear drawn out long and then longer. It sunk its claws onto ingrown anxiety and outgrown isolation. It covered our existence with unseen masks difficult to shed.
I might be too jaded for big clean slates, but aren't we being a little naive with our eagerness to turn the calendar away from 2020 to 2021?
The Apostle Paul, prolific New Testament writer, propagates joy and hope. He often penned within prison walls where day mounted onto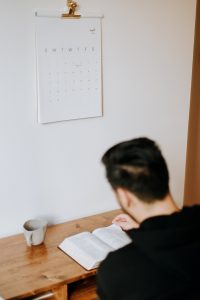 day without a change. Minus a timepiece, planning journal or wall calendar, his books are timely. They always anchor us to truth and renewed perspective.
Here are four of Paul's life lessons that infuse hope into new beginnings.
1. "Therefore, if anyone is in Christ, he is a new creation. The old has passed away; behold, the new has come." 2 Corinthians 5:17 (ESV)
We are new creations in Christ. We aren't what we were. Who we are is now new.
2. "…seeing that you have put off the old self with its practices and have put on the new self, which is being renewed in knowledge after the image of its creator." Colossians 3:9-10 (ESV)
Knowledge of Christ births ongoing renewal. We resemble Him more as we know Him better. 
3. "…to put off your old self, which belongs to your former manner of life and is corrupt through deceitful desires, and to be renewed in the spirit of your minds, and to put on the new self, created after the likeness of God in true righteousness and holiness." Ephesians 4:22-24 (ESV)
God's truth regenerates our way of thinking. It moves us to be like Him governed by righteousness and holiness. 
4. "We were buried therefore with him by baptism into death, in order that, just as Christ was raised from the dead by the glory of the Father, we too might walk in newness of life." Romans 6:4  (ESV)
Walking in newness is an everyday spiritual reality. We might falter, we might stumble, but we don't give up because we are rooted in Jesus, who makes all things new. 
You might try to polish off the extra goodies before tackling the extra pounds or strive to give up bad habits and replace them with new. Perhaps you revel in reorganizing with planners and systems. Still, you might find like me that the burden of the old is dragging itself into the new.
Regardless, I encourage you to take the time to read these Scripture passages in their context. There is so much in them which brings assurance for the future.
The best beginnings flow from the heart of truth.
Jesus offers new beginnings every day of every year.