I heard the bang of a metal door next to me before I leaned down for that "underneath" the gas-station-bathroom-stall search. In my bent over rectangular view, two thick-soled black shoes shuffled against the dirty tile floor. Their slow slide inched forward with obvious effort.  
Once abreast of my stall door, they would block my way. I needed to open my door immediately and exit before her slow unsteady progress left me stranded in the tight pit stop hallway. But I knew if I did, I'd be gone out of the bathroom before she even got to the sink. And, though we were on a time crunch on our road trip, she might need help.  
Nor did I want to come behind her and make her feel rushed or embarrassed at her difficult mobility. I decided to wait.
He who planted the ear, shall He not hear? He who formed the eye, shall He not see? (Psalm 94:9 NKJV)
My daughter, in her power chair changes how I look at others. People once invisible to me, catch my eye now. I can see them with my heart.  From her vantage point, my daughter often finds herself dividing tall crowds of people. She is a fork in their road, and they go around her as if she is a mere blockage in their path. Like a river divides itself against a rock, groups swell and split around her without a downward glance, speeding past, never acknowledging the woman at their elbows. She separates floods of humanity while she waits for an elevator, takes a place in line, or motors down the store aisle. 
And this invisibleness bothers me tremendously. It keeps me in my gas station bathroom stall until I decide it's time to nonchalantly appear. 
The elderly woman breathed heavily with the exertion of each step. She groaned with pain as she shoved the walker ahead of herself. When she'd nearly reached the sink, I unlocked my door and stepped out. I recognized from our family experiences with our daughter's handicap that this lady, decades older than our daughter, was new to the Land of Disability.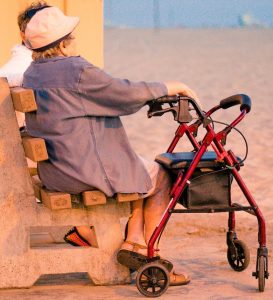 And somehow this woman's pain touched a tender spot in my heart, a connection to our family's pain, and with it that assurance that God puts people in my daughter's path like He has put me in this lady's path. 
She leaned into her walker and groaned, bewildered at how to proceed with the simple task in front of her. She needed to wash her hands. 
… He who planted the ear, shall He not hear? 
I took one look at this dear lady's face, and knew God offered to me what I had thought to offer another.  I became so aware of His seeing my own invisible hurts and of His constant caring.
 He who formed the eye, shall He not see? (Psalm 94:9 NKJV)  
I looked through the scene with the familiar eyes of my daughter. Everything was out of this lady's reach. The faucet, soap dispenser, paper towels, could just as well have been on another planet. They were useless to her. God offered to me what I had thought to offer another Click To Tweet
And so we bonded over soap, water, paper towels, and the big bathroom exit door she could never have opened by herself.  
  When I finally got her safely to her husband and her car, I wanted nothing more than to put my head down and cry. For her. For my daughter. For me. 
I mistakenly thought I had something to give when God intended for me to receive. 
This morning I read the Apostle Paul's words in 2 Corinthians 12. They struck me again with how God uses the platform of our human weakness, those thorns in our flesh, to display His power and strength.  
But he said to me, "My grace is sufficient for you, for my power is made perfect in weakness." Therefore I will boast all the more gladly of my weaknesses, so that the power of Christ may rest upon me. For the sake of Christ, then, I am content with weaknesses, insults, hardships, persecutions, and calamities. For when I am weak, then I am strong. (2 Corinthians 12:9-10 ESV)
When my shortsightedness sees a blockage in my path, Jesus sees the blessing. He sees beyond to how He will use even thorns to His glory. While I see with the restrictive rectangular view of human eyes under a toilet stall, He sees all. When my shortsightedness sees a blockage in my path, Jesus sees the blessing Click To Tweet
If at times I may feel unseen, I can be sure, no one is invisible to God. He hears, He sees. He cares so much He showed it by ministering to me through a woman whose hands I washed with mine. I'm sure I'll never see her again, but I know He will never lose sight of her. And I am comforted again and assured that He who planted the ear, shall He not hear? He who formed the eye, shall He not see? (Psalm 94:9 NKJV)