"I didn't recognize that gray haired man," my husband and I squinted together at the photo on his camera's screen. 
I saw him immediately in the group picture. He wasn't so ready to claim himself. His twenty-year-old-self-portrait imagination inhabited an older person he didn't recognize immediately. 
But I'd know him anywhere.  
If my twenty-year-old self could have seen this picture, would I have been able to recognize the man I've been married to for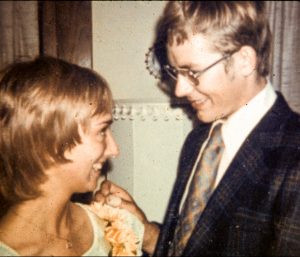 forty-seven years? Could I have seen the father of my children and grandfather to children's children in that picture way back when?    
I don't suppose any of us really know what sort of dad the man we marry will grow into, like a picture with dim lighting or an outline of a someday image. Or like vapors of hopes and dreams from which a dad-hood image appears as fog clears.  
"How did you know Dad was the right man for you?"
I'd asked myself that question once many years ago."If everything was stripped away, if all the things that make my heart pound and knees go weak, what kind of a man would he be?"  
"And what was the answer?" she asked, face pensive and brow hopeful. 
"I knew he would be a man who loved God and would be faithful. He would be trustworthy. He would lead well." 
"…remembering before our God and Father your work of faith and labor of love and steadfastness of hope in our Lord Jesus Christ." 1 Thess. 1:3 ESV
Would I have found you in that someday picture?   
You are the one who fixed bicycles and builds a ramp so our daughter can get into the house in a power chair. You are the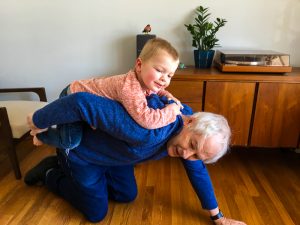 one who makes log-stump-chairs for grandkids to back into and settle onto and the hands and knees school bus with three little boys to ride on your back.  
"…labor of love…"
I know you now by the nights you can't sleep and get up to read your Bible and pray for your family. 
You are the one who I ask why in the world were you up at 3:00 am and you say, "God called me," and then grin at the silliness of a man who can't sleep.  
"…your work of faith…"
I know you by your assuring smile when I'm afraid, your blue eyes that twinkle when they shouldn't, and the irritating way you don't say, "I told you so," because you don't have to. 
"…steadfastness of hope…"
I know you by the hard work, and dedication you give to all you do. 
I know you by the unwavering love and loyalty which knits your relationships. 
Yup. I know you even with hair that is white like a Florida beach, and with a wrinkle that furrows your brow, lined like a map of years. 
I know you by the same-place-stains on the front of your shirt and the ice-cream you sneak when you think I don't know. I know you by the espresso cups on the counter and the shoes I trip over. 
I can pick your broad shoulders out from a plethora of other broad shoulders,  and I still claim yours as mine. 
We laugh (not as heartedly as once) about the day to come when we may forget. We joke about not remembering. But today, I look at a photo of you amid many and thank God I know you. I pick you out again and say, "that one's mine. I choose him." 
Happy 45th Father's Day. 
"…your work of faith and labor of love and steadfastness of hope…" 
*feature photo by Sylvia Schroeder
---
You might also be interested in my articles on:

---
Facebook Micro Blogs: