When I think of my grandchildren, there is a sweet glow in my mind of happy holding-on-the-lap book reading, coloring pictures together or baking cookies. Quiet blissfulness. Togetherness.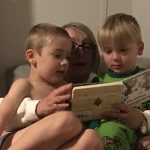 And so ridiculously unreal. 
When my husband thinks of our three youngest grandsons, something comes over him. He becomes the terrible and mighty Foota-eat-a-saurus. What might that be you ask? Well let me assure you it is neither quiet nor sweet. It neither calms nor settles. When his transformation begins, three little boys open their mouths with piercing screams and take to the farthest corners. Scattered like leaves in the middle of a howling hurricane.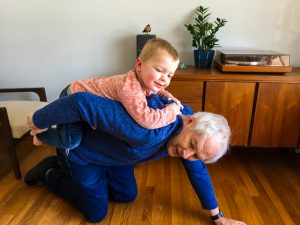 My husband gets down on the floor and growls and slithers like any Footaeatasaurus would, intent on reigning in his daily toe ingestion needs. He heads straight for the boys. They scream and run and knock things over and laugh hysterically with delicious terror. He reaches out a Grandpa arm and grabs an ankle. He pulls the foot close and snarfs it down in chumps and growls. They scream, fight and beg for more. In fact they offer the other foot. 
I don't quite get it.
"So why do they like you better," I ask? 
Because to be liked second best is of course the secret fearful jealousy of many moms and grandma's.
Of course my husband vehemently denies they like him better, but I know my words are like a glistening pin in the Footaeatasaurus' nape. 
It's obvious in the way they stare out their window waiting for the old folk's arrival, then run to open the door and shout, "Grandpa, are you here to play?"
I can see it by the way they grab his hands and pull him down onto the wooden floor where again his metamorphosis from sweet and lovable
A tweak here and there and the man changes to a toe monster I didn't know existed.
When there is a Footaeatasaurus in the house and three little boys, what chance does a little old Grandma have?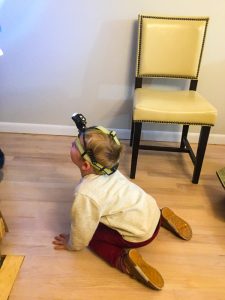 So, my husband, the man who still flutters my heart when he is not eating the toes of my grand babies, kind, considerate, and not wanting to leave me out, (while at the same time thoroughly relishing his fame) has found a solution to include me in the all important formation of our grandchildren's lives. 
Meet the Finger-eat-a-saurus.  
Oh yes. We are a match made in heaven or some cave somewhere. Footaeatasaurus and Fingereatasaurus. 
But the Fingereatasaurus is still a Grandma. And since the original Footeaeatasaurus and Fingereatasaurus back in the garden, male and female operate differently.  
Frankly, I could do without eating little fingers. And what in the world is wrong with a Grandpa who snarls and eats toes? 
There are a whole lot of differences happening here. 
"Hey kids, how about making some chocolate chip cookies?" I ask. 
I watch them peel away from the chaos to join me in the kitchen.  
"We can read a story while we eat our cookies," I suggest to three eager followers. 
Beat that.  
Bribery, even in an Eatasaourus' world, still has its place.