My parents weren't really the "let the consequences teach her" kind of people. They were more the "let's give her some consequences" types. But since I could always count on what my actions would get me, I had the ability to weigh whether or not what I had in mind was worth the pain. Those calculations spared me a lot of by-product. 
If we siblings could choose, we would have chosen mom over dad any day for said by-product. She was much softer. However, my mom surprised me one day by her creativity in going off the usual form of discipline. 
She opted for the sink.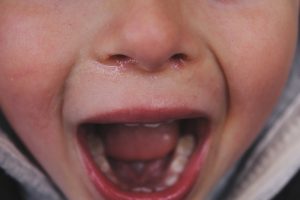 I have no idea what word I said, but I recall clearly the awful sudsy taste on my palate for a long time afterwards. 
If she were alive today, I'm pretty sure she'd want to take some people by the scruff of the neck, stick their face into the sink and scrub out their mouths. 
Now, if you have jumped to conclusions about me criticizing one political side or another, halt. I'm thinking of us. You and me. Because that's who Paul is talking to in Ephesians 5 and he has a mouthful to say to us. 
"Let there be no filthiness nor foolish talk nor crude joking, which are out of place, but instead let there be thanksgiving." Ephesians 5:4; ESV. 
So I did a little looking and it seems "filthiness" refers to obscenities, dishonoring and base talking. 
"Foolish talk," or "silly talk" in some translations, is godless speaking. It stems from moral deficiency.
While "crude joking" turns speech into something bad.  
These aren't fitting, or rather are "out of place" for us who represent Jesus to an out of place world. It's part of who we once were, but not who we are now. Such talk is incongruent with our new nature.
I admit. My first thoughts when I read the verse, condemned words of others, those fill in the blanks on social media, forms of entertainment and yes, the political scene from every side. There are a lot of nasty words happening out there, from believers and unbelievers alike. They're slung through the air like missiles. A whole bunch of cringeworthy crusty crud-mud is flying out from a whole-lotta places coming from a whole bunch-a people. 
But the Apostle Paul isn't talking to all the other people out there, many who don't even know Christ. They belong to another master. Rather, he's addressing the dissonance between what you and I say, and who we are in Christ.  
In a sense, any disparity should haul us up to the sink and clean our palates. Paul commands a different kind of speech, washed and pure.  
"…instead let there be thanksgiving."
This should characterize us. 
Like a bar of soap, thanksgiving when rolled off our tongues, leaves no room for filth. 
My mom would approve, and let me tell you from one who knows, it leaves a better aftertaste too.