What would it have been like to reach a hand to Jesus' shoulder where he slept and shake him awake?
We relate well to the waves of Mark 4 splashing into the boat, the wild winds and terrifying storm bigger and greater than our ability to bear. We understand that sinking feeling, and the panic of going below the waves.
Like Jesus' disciples caught in a squall on the Sea of Galilee, we know what it is like to pray in desperation as if to grab at the Master's shoulder and shake Him awake. We too want to cry out, "Don't you care?"
Emotions drive doubt, raise self-focus, bring fear and drain faith. Sometimes circumstances produce questions which swing away from what would bring God most glory to "does He care?"
"That day when evening came, he said to his disciples, "Let us go over to the other side." Mark 4:25 (NIV)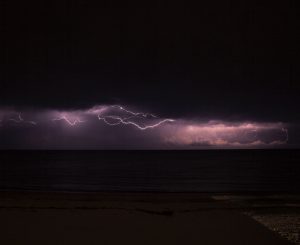 Crossing the water was Jesus' idea. Tired after a day of ministry, Jesus wanted to be put out to sea "just as he was," without going home for a suitcase or change of clothes. He fell asleep on a cushion, seemingly oblivious to the quick winds and high waves.
Can't you imagine the disciples' conversations as the boat filled with water, and the heavens flashed while rain poured?
"How can he sleep through this?"
"He doesn't even know what's happening."
Can't you picture them soaked to the skin, teetering against driving wind, fighting to stay alive?
"Why doesn't he do something?"
"The boat is going to sink."
"We're all gonna die."
I envision frantic hands grabbing at Jesus, their insistent shake and sounding panic waking Him from an exhausted sleep. I can feel their growing hysteria, so like mine at times, desperate for an answer, begging Him to come out of His reserve and act.
Perhaps your winds are blowing really hard now. Maybe waves cover your boat. You might feel you are sinking, and you begin to question. Where is he? Why doesn't He do something?
"Teacher, don't you care if we drown?" they asked. Mark 4:38 (NIV)
How quickly the disciples went from the exhilarating rush of cheering crowds, miracles and hope to terror and accusation.
"He got up, rebuked the wind and said to the waves, "Quiet! Be still!" Then the wind died down and it was completely calm. Mark 4:39 (NIV)
Can you imagine the sudden stillness, the quiet aftermath of wet feet against the rough wooden bottom of the boat resting in calm water? Can you feel the angry breath of the buffeting winds stop? Do you hear the silence?
"He said to his disciples, 'Why are you so afraid? Do you still have no faith?'" Mark 4:40 (NIV)
Because to truly know who He is, is to know He is greater.
Father, may our awe be of You. May we look for Your glory above our own comfort and desires. May our eyes rise above each storm to lose its grip of fear, so we fear only You, Sovereign over winds and waves.
"They were terrified and asked each other, "Who is this? Even the wind and the waves obey him!" Mark 4:41 (NIV)
The disciples exchanged an inglorious fear for glory-filled fear.
May our souls remember their awed question in the midst of our storms, for surely the answer will calm the tempest of our fears.
"Who is this?"