"So," she asked, "are you beginning to feel settled yet?"
How do I answer that, I wonder? Should I mention we haven't even carried our furniture up from the basement because first we have to paint the walls and redo the flooring? Or should I begin with the re-wiring saga, or drywalling? Maybe I could remind her of COVID complications for everything from insurances, tags and driver's license? So I opt for the uncomplicated. 
"Not yet."
She is talking about my house. I am answering about my heart.
Unsettled goes deeper than buckets of paint, hammer, and electric drill littering where a couch and coffee table ought to be. It's not just unpacked boxes and tracked through dirt.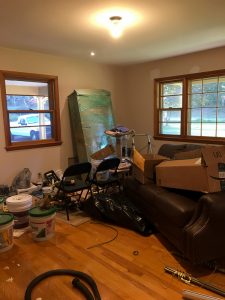 It's short on patience and full of thorns. 
Perhaps you've heard the illustration, "Why does the water splash out of the glass when it's bumped?" More basic than "because it's bumped," the answer is "because water is in it." 
I feel like my glass is getting bumped a lot. There's a move, a pandemic, a political situation, unrest in the streets, a change in job, and some final goodbyes. And seriously, I am not pleased with what's splashing out. 
But, in 2020, I'm not the only one whose glass is bumped. 
on my water glass are mostly inconveniences. Friends of mine face much more significant life altering life and death transitions, changing everything for always. Their sorrow seems to make mine choppier, more weighty. 
Jesus reaches down into unsettled hearts. 
"Do not let your heart be troubled;" He told his disciples, "believe in God, believe also in Me." Jn 14:1 (NASB)
Oh but the disciples didn't get it. They saw a politically oppressed nation taxed unfairly. They lived with cruelty and prejudice against them. They wondered how Jesus' assurance could possibly bring the relief or peace they longed for when their lives were filled with trouble. They were ready for change. 
And so Thomas just put it out there, "Lord, we do not know where You are going, how do we know the way?" Jn 14:5 (NASB)
Like Thomas we are bumped by the wear and tear of missing community, fear and isolation. We are rattled by traditional church disruption and an upcoming election. We are so done with pandemics and plagues. We are shaken by not knowing what will happen and not seeing an end. 
This is life unsettled. 
I feel Thomas' plea echo in my heart, Lord, I don't know how I can make a nest when everything is shifting. I don't know where these world events are taking us. I'm not sure of the way forward. I am unsure of tomorrow.
And then I hear the same tender compassionate assurance Jesus gave to Thomas fill my troubled cup with peace. 
"I am the way, and the truth, and the life; no one comes to the Father but through Me." Jesus answered Thomas.  
And therein the waves calm. 
I will be bumped and I will splash over. My splash-out and spill-over reveals what is inside. I don't want muddy rivers of fear, anger or despair. I want Living Water, pure and clean to flow over to a troubled world. I want it's abundance to shower others with the Way, the Truth and the Life. 
So go ahead and ask me if I'm beginning to feel settled yet. Chaos in my life makes me feel as if I am being sanded and covered in the sawdust of renovation. But it's exactly what I need. His refining brings me to know Jesus more intimately. He is the One who fills my inner core. He settles me.  
Let me ask you the same question. Are you beginning to feel settled yet?