"Nothing of value has changed," he said leaning over our daughter. His young face was earnest and sincere. His blue eyes searched to connect with hers, foggy and distant.
Day after day another ability vaporized into thin air. She couldn't walk. She couldn't move her arms. Her words slurred. All of her body parts conspired against each other, until our daughter could move only her eyes. A brain stem lesion invaded every mundane taken for granted piece of her.
But her young husband recognized the value of a life owned and held by the Savior. He realized all that mattered still did, that a redeemed life, bought with the precious blood of Jesus Christ was held securely in the hands of a loving Father.
He straightened, rubbed his sore back and raised his eyes. Across her white sheeted hill he looked to where I sat on a hospital stuffed chair which would be my bed for the night.
"I'd appreciate it if you remind her of that."
Then he turned to leave her in my care while he went back to read a story to a two-year-old and diaper a six-month-old.    
Although everything was different, nothing of value had changed.
The chairs in our churches are spaced six feet apart. We stagger our rows and mask our faces. Distance shies us from one another, it picks at friendship and plucks at community. It takes effort to meet and greet.
Our political climate is rife with conspiracy theories and party intrigues. It is chocked with stuffings of disrespect and malignment. Stories fly, believable yet untrustworthy. Craziness happens.
Candidates approach each other like Sumo wrestlers. Plots stranger than any make-believe hatches even more bizarre schemes. Agendas propagate one thing and the other another. Dire predictions spill like lava and add to underlying fear from a pandemic.
We are in a really weird time folks.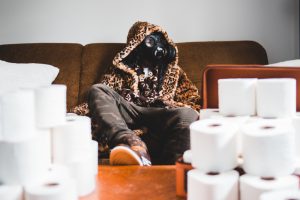 And in my isolated church chair on Sunday morning, surrounded by the body of Christ gathered for worship, I wonder, what it means to us. Evil forces have always conspired against God's people. Malignant roots deep and twisted are part of Satan's plot to overthrow God since the beginning of time. Wickedness has always been at war with righteousness. There have always been those who seek to manufacture God's words as if they could control Him to further their own vile actions. Has not the deceiver always sought to bring down the church?
Since the snake in the garden, Satan has been afoot like a roaring lion seeking to devour. He has been bold in the past and will increase in audacity as our time comes closer to an end.
But church, this what Christ came to defeat. Isn't the gospel the same today as it was on the day Christ died and rose again?
Dear body of Christ, masked and distanced six feet apart, nothing of value has changed.
Church, singing praise through bindings of cotton, nothing of value has changed.
Church, greeting with elbow bumps and air hugs, nothing of value has changed.
Church, with the enemy waiting in the wings, nothing of value has changed.
The gospel is the same as it has been for centuries. It remains true. Jesus died for our sins and redeemed us.  He rose again. He is coming back. He has prepared a place for us. Eternity with the Father awaits.
"For God so loved the world, that he gave his only Son, that whoever believes in him should not perish but have eternal life." John 3:16 (ESV)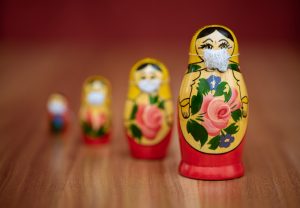 Throughout the history of the church, worshippers around the globe have had deeper handicaps than the coronavirus to overcome in order to congregate. They  wandered in caves, in deserts and mountains, in chains and were destitute. They were stoned, sawed in two and killed with the sword.
And, the world was not worthy of them. (Hebrews 11:38)
"Nothing of value has changed," Jesus assures us.
The gospel remains the same. He has conquered sin and death.
"Nothing of value has changed," my son-in-law said over my daughter.
Nothing has.