There's a U-haul behind us.
I will be home someday, and when I am, the U-haul's not coming.
We've been planning this move for a long time, still I feel like it snuck up on me. The details of up-nesting are upsetting, bordering pure torture and filled with absolute mayhem.
"Where's the permit? I put it right here a minute ago."
"Do you think I'll need these 1 million and 54 boxes of family pictures?"
"Is there clean underwear anywhere?"
The ritual of packing is like folding thousands of memories, clearing some out while holding some next to our hearts because we don't want to let them go. Moving shakes out the cobwebs of life, discarding, lingering, refolding them and placing them lovingly on the shelf.
We've moved from country to country four times. We've travelled to over forty countries. This move from the midwest to the east with a U-haul bringing the piano from my dad, the old car from Phil's mom, and the momentos of babies and their babies in the crowded truck cab seems at this point a bit ridiculous.
I mean, do we really need this stuff, and where are we going to put it all? Phil reminds me of how little we own, and in the wide scope of things, he is right. The majority of our things have nostalgia. Much of it gifted nostalgia.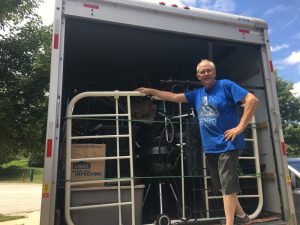 Seriously, who could toss the painted plate from Venice our Italian neighbor gave? I never loved the plate, but I did love her. Or the freebie wooden chest off the street in Germany, its character marked with gauged doors. Even more, the hand embroidered cloth from a Croatian student, whose name I can't remember, but I can still see his smile.
And so it tags behind, groaning with weight, an orange and silver truck with U-haul painted across the side.
This transition holds promise of endings, and I much prefer beginnings.
I've taken special comfort from words Jesus spoke to His disciples, grooming, nurturing and comforting them for days ahead. Perhaps they felt the uncertainty of not knowing, or the uneasy in-between because Jesus started with, "Let not your heart be troubled."
"In My Father's house are many mansions; if it were not so, I would have told you. I go to prepare a place for you. And if I go and prepare a place for you, I will come again and receive you to Myself; that where I am, there you may be also." John 14:2-3 (NKJV)
There is a longing put there by the Creator to be home. Since the Garden of Eden, where home held only the paradise of perfection, to the day we see Jesus face to face or in the clouds, we long for a dwelling of safety and peace. The funny thing is like in every area of life, we so willingly exchange it for something of less value. Bigger, better, sleeker, or more accommodating. Almost as if that place on earth is god, or a piece of our god.
The house we are moving to needs some work, a lot of paint, and a good bit of love before it will feel like home. My mind expected a different sort of all in order, ready-to-go reward for a lot of years of living. But then, the Holy Spirit convicted me of putting a someday expectation of retirement as if it was heaven on earth, a god of arrival. And of course, it is not.
As we go through a lot of stress, decisions, and figure out life in a different context, I remember Jesus has made His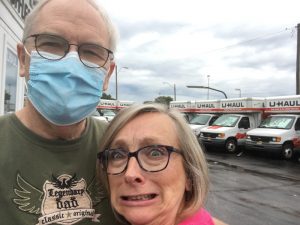 home in my heart. Dwelling is what He is good at. He ardently desired to dwell in the midst of His people throughout the Old Testament. That was what the tabernacle was about. Then came the magnificent temple, a home in which man could meet God. They were just representations of something better.
So while my worldly house is dragging across the USA in a U-haul, my dwelling place remains stable, where it has been since Jesus came to live there. I'm at home with Jesus wherever this body is. And so, this tugging of the U-haul and its strings to my heart are another reminder of a more wonderful beginning. These emotions are the proof that the best is yet to come, and each day that passes, I'm getting closer.
For someday, I truly will be home, and I'm not hauling a U-haul behind me.