It's an odd time to sell a house. It's an odd time to move. It's an odd time.
Boxes scatter the floor and emptiness echoes off the walls of the only house we've ever owned. Outside a For Sale sign hangs. The Sold sign never got put up because these days only what must be done merits doing.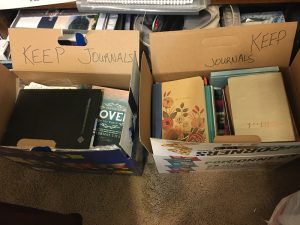 A mounting pile of discarded possessions bleed over onto the floor while another fills with stuff I should pitch but can't quite yet.
We toss items into a throw away box, like needle pricks, "this will only hurt for a second."
My husband and I fold down the cardboard flaps, screech packing tape across the top and move the box a few blocks down the street where we are renting in a stop-gap move which seemed a good idea once.
"We are neither here nor there." I say hefting a box filled with grand kid's toys.
I feel uprooted and a little lost.
But then, in the fog of Covid-19,  it's the kind of ghost-feeling gliding through many of us.
Like a house whose home moved out. 
Surreal.
Unsettled.
And I wonder if anything will ever be the same again?
Perhaps one of the most important lessons of our coronavirus world is this question of what is worth saving and what needs to go. Unsettledness sifts us, reorders our lives and cleans our closets.
It makes us aware of subtle gods we've allowed to rule our lives, and reveals our founts of value. It asks the question is church a building or a body? It bids us consider what meets my needs and how do I help others? It invites repentance and personal revival. It begs us to discard peripherals and keep essentials.
When uncertainty runs rampant and unchecked, what is sure? What doesn't change or morph? What is rock solid?
Jesus Christ is the same yesterday, and today and forever. Heb. 13:8. (ESV)
Our celebration of Christ's death and resurrection will look differently this year. Easter won't be observed under the light of stained glass or in a hushed auditorium. Can we let our dark and foreboding disquiet carry us to long ago when the Messiah's body lay in a damp grave? Can we empathize with perplexed and frightened disciples, feel their anxious thoughts about what to do and if life could go forward?  Did they wonder like some might today if tomorrow will come? Will Scriptures reveal the Easter account relevant and fresh?
No crisis can lessen the magnitude of Jesus. No darkness can obliterate the Son of God. He rose from the tomb and shines gloriously alive.
Yesterday.
Today.
Forever.
Crises give impetus to get rid of the unimportant and cling to what counts. This is my packing lesson, my sifting and re-ordering.
These long social-distancing-stay-at-home hour-after-hour days may be our best. This may be time His Word takes root and speaks to our souls.
Alone but together we join at the foot of the cross.
Jesus Christ is the same yesterday, and today…