My father-in-law used to shake his head and say with a bemused look on his face, "Who knew that someday…," then he'd finish the sentence with something particular from that season of life. Honestly, it kind of irritated me.
Like, what did you expect?  Did you think you would always be 25?  Or, didn't you know someday your kids would be grown and out of the house? That they'd have lives of their own, jobs to do and and people to love? How can anyone not see what's coming?  This, I'd think in my young body and underdeveloped brain.
How can you say, "who knew?" as if older age crept up on cat haunches, under radar and unexpected. 
My husband and I just celebrated some…uh, hum..big number of years together. And at some point he commented with an echo from his dad, "Who knew when we said, 'I do?'" That phrase has been sing-singing in my head ever since. 
Indeed, even of what we knew back then, today I know…we had no idea. Seriously. 
Who knew when we said "I do," just the two of us at the table together, one day there would be more. Of course we sorta knew, but we didn't quite see the green peas in our hair and mashed potatoes smeared across a high chair.

Perhaps we pictured sweet babies in their sleep, but not long nights of nerve wracking wails. Stacks of diapers. Swimming lessons. Preschool. Soccer. Homework. 
Tears and temper tantrums. Theirs and ours. 
Who knew when we said "I do," belly laughs could make us so silly? Who could predict the amount of time and fear it would take to keep four children alive? Or comprehend "don't blink" and that heavy on the lap would morph to heavy on the heart. That little issues grow bigger as children do.   
Who knew when we said "I do" the ever present diaper bag would be exchanged for backpacks filled with books and notes from teachers.  
Who could know someday toy cars and slung-across-the-room airplanes would be replaced by real cars and real airplanes. That play dates would become real dates. 
Who knew? I guess we did. But not really. Not quite.

Who knew when we said "I do" someday our quiver might include three son-in-laws and a daughter-in-law, that giving away means loving into? That our unit grows, it also multiplies. It shrinks, grows, and then explodes with more and more people to love. 
Who knew when we said "I do" that someday we would sit by our daughter's hospital bed while rivers of sorrow flowed down our cheeks. That nothing would ever look quite the same again. And that Jesus would become infinitely more precious?
Which of our imaginations was vivid enough to see a tiny hand again reach to caress our cheeks and call us Gampa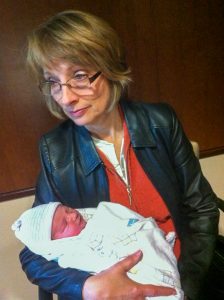 Gamma? That little arms would squeeze our necks and smudge our glasses. 
We knew. But we didn't.
Who knew when we said "I do" that Someone would walk every step of the journey with us. Never leaving. Always faithful. 
We didn't really know what we thought we did till we went through it. 
Who knew when we said "I do" that someday we would look back over 48 years and say, that time is a robber and time is a gifter.  
Who knew when we said "I do" what a treasure each day together would become, and how sweet is the sun each morning.  
"For He knows our frame; He remembers that we are dust. As for man, his days are like grass; as a flower of the field, so he flourishes. For the wind passes over it, and it is gone, and its place remembers it no more." Psalm 103:14-16 NKJV
With each beat of our hearts, eternity draws nearer. Who knew when we said "I do" how sweet it is to know, there is Someone who knows.