There is a rock outside the church we attend. It's a huge sort of how-in-the-world did that-big-thing-get-there boulder. It shoots out of the ground with no apparent means or logic. Whether it grew in place or if someone somehow planted it there no one knows.  
And every Sunday after church kids swarm to the rock to climb, scrape knees, and terrify their watching parents.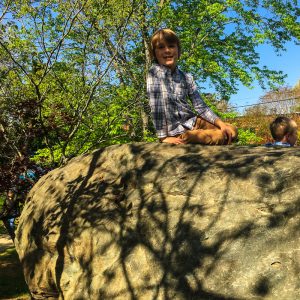 "Meet you at the rock, Bro," says a little friend to my 6-year-old grandson. They agree with an adult-ish wink and thumb's up before they part for different classes.
My daddy-son has admitted to using, bribing and promising the rock's usage to inspire his three little boys in the getting-to-church process. From home to church repeats through the centuries as one of the great challenges of parenthood. But hey, our church has the rock.  
Sooner or later, the correlation of a big gray rock, with its multitude of little people hanging off its edges outside of a church building each week, cannot be ignored. It simply has to be a reminder of Another Rock. One safer and higher. One we cling to.  
"Hear my cry, O God;
Attend to my prayer.
From the end of the earth I will cry to You,
When my heart is overwhelmed;
Lead me to the rock that is higher than I." Ps. 61: 1-2 (David) NKJV
David knew to whom He prayed. His cry went up from a place which might even be the end of the earth, yet not at all off God's radar. The emotions of our hearts are never on foreign soil to Him. God is familiar with each one, and He cares.
When my heart is overwhelmed. Sometimes I am afraid and ashamed of the overwhelmed-ness of my heart. The sinking sand of emotions and dark waves spilling over my spirit are something a mature believer shouldn't struggle with, I think. But I do, and apparently David did too.
He was the same David who with five small stones and a sling full of confidence in God, confronted a giant. The same long ago young boy who dared to declare, "You come to me with a sword, with a spear, and with a javelin. But I come to you in the name of the Lord of hosts, the God of the armies of Israel, whom you have defied." 1 Samuel 17:45 NKJV
And God delivered him. Over and over again. He reached about as high as any man could go. He was King. He had power, riches, and honor. A grown man, no longer with stones in his pocket but a giant's sword at his hip, came to God sad and overwhelmed. 
"Lead me to the rock that is higher than I," he prayed.
This Rock bids us to leave behind our egotistical "I've got this," "I can do this on my own," or "I know what I'm doing." It is the Rock that takes my overwhelmed self, and places me under the shelter of God's wings, covered, and lifts me high. He puts solid stability under feet that would sink. He sets my vision where I can see farther and broader, above and beyond.    
A line of parents head to the rock after church, clenched in one adult hand are Sunday School papers that flap in the breeze. In the other a child's is firmly grasped, pulled at by skipping dancing feet. 
Tiny beings reach the foot where it rises colossal out of the green grass. Let go they run for the heights ahead. Princesses dressed in tule like pink bouncing clouds, boys in buttoned shirts and slicked back hair scramble like mountain goats. 
At the bottom moms thick with more babies and busy fathers stop to converse about their jobs. But their eyes stay toward the rock where their children climb.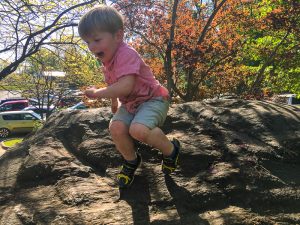 Midstream chats break with, "Do you see Luca?" "That's high enough." "No, Enzo stay away from the edge!!"
In the older crowd, the dizzying rock inspires under breath humming. A men's quartet takes residence in my head with "Lead me to the Rock that is higher than I." It shares space with, "A mighty fortress is our God, a bulwark never failing." 
David's song in Psalm 61 begins with a sad melody but ends in uplifting praise. He remembers who God is, a shelter, a strong tower, a heritage. He speaks truth of past faithfulness into his present need. 
"So I will sing praise to Your name forever, that I may daily perform my vows." Psalm 61:8 NKJV
"Time to go," the calls begin at the base of the rock.  
Oh how those children love that big stable unmovable rock so much higher than they are. 
Safe parental hands extend, bidding them to come. Trusting little ones connect like a magnet. We head for the car, a little relieved and a bit nostalgic to leave the rock for another week. 
How is your heart today? Is it like the Psalmist's overwhelmed with emotion, sadness, or fear? There is a Rock. Jesus reaches down His nail scarred hand to lead us there. A song of praise will come.