"How sweet are your words to my taste, sweeter than honey to my mouth!" Psalm 119:103 ESV
When fast food started flipping burgers in Italy, it raised a commotion. 
Protests and picketers lined streets in Rome where the first McDonalds was  built. 
In fact, McDonald's initial foray into Rome incurred a lawsuit. Designer Valentino claimed the smell of french fries ruined the clothes in his studio only a few doors down. 
We were a young family then, learning the ropes of living in Italy when all those lunch room food fights began. Our children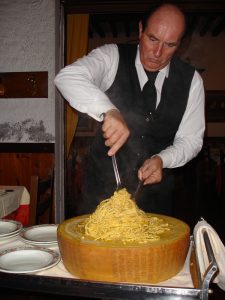 were small when early rumblings of fast food chains threatened an empire built on Nonna's traditional homemade pasta and slow simmering sauces.    
Many thought the opening of American food restaurants would lead to the unraveling of the sophisticated palate of an entire country. The whole idea of fast food seemed sacrilegious to the pace and culture of (in my opinion) the absolute best food in the world. From the ruckus, spawned international slow food organizations, proponents of good food and long traditions. 
Newbies to Italy, we wondered what the big deal was all about. Fast food. Slow food. The mere thought of sinking our teeth into a Big Mac made our mouths water simply because it brought to our minds the flavor of home. Our girls missed Happy Meals, possibly the toys more than the burgers.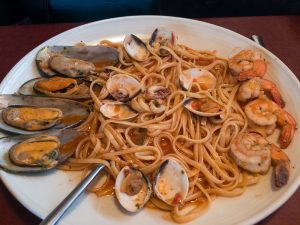 While the American idiom tells us good things come to those who wait, we are a culture with the god of comfort and ease. Delayed satisfaction is not our strong suit. 
Unfortunately such impatience transfers into our spiritual lives as well. 
A plethora of shortcuts are available for spiritual growth. They line the shelves of bookstores, come in apps, you tube and scroll through our feeds. 
In the physical world we recognize the ridiculousness of delivering a baby and foregoing its ordinary slow and steady progress until adulthood. We measure, chart and cheer each year's growth as if it were our own. But nobody pops out done, ready and mature without growing pains to get there or proper nutrition.
It is the same for Spiritual and Biblical growth. 
"How sweet are your words to my taste…" the Psalmist says. 
The author of Hebrews in the New Testament, challenges his readers' with their inability to ingest mature food. They had not proceeded past the baby's bottle.
"For though by this time you ought to be teachers, you need someone to teach you again the basic principles of the oracles of God. You need milk, not solid food." Hebrews 5:12 ESV
Which of course begs the question, what are you eating? Are you still on formula? Many believers approach Scripture like I confront green beans.  
"I'll eat it if I have to, but the more disguised and diluted the better, and if we can lower the ratio of green bean to cheese, bacon or sauce additive, better yet." 
Digesting God's Word takes some digging in and chewing. It requires taste and appreciation, studying and savoring. It takes time.

 

Habitual spiritual drive-through's starve real spiritual nutrition.
Slow down. Swallow and let it bring real soul nourishment. Enjoy.

 

There is no ingredient substitute for the Bible itself. Sure that plethora of books can be helpful, but never forget God already gave us one.

 

Inspired.

 

Accurate.

 

Authoritative.

 
My friends in Italy, intent on convincing me fast food was a sure way to ruin one's stomach, said with gravity, "fast food sticks in the throat and doesn't go down."
I think after years of living there, they were right. 
I've discovered I'm definitely a slow food person. There's nothing  better than fresh pasta wound around my fork, dripping with sauce simmered for hours, or a creamy risotto with mushrooms, and don't get me started on polenta and sausage. Nothing better.
  Unless of course it is the pure sweet honey of the God's Word.
---
Recipe Just for Fun
All'Amatriciana
(Roman dish originating from the town of Amatrice)
1/2 lb. Pancetta or diced unsmoked bacon

 

Medium onion sliced very thin
Saute' together in a generous amount of extra virgin olive oil (6

 

tablespoons is a good start)

 

When the onion and bacon are well cooked, add 2 small cans of stewed tomatoes or diced tomato. Smash them as they cook.

 

Add 1/4 teaspoon crushed red pepper flakes.

 

Throw in a few fresh basil leaves and simmer.
Serves 4
This is one "fast-food" Italian recipe. The sauce only needs about 15 minutes to simmer and it is good to go, but I like to let it simmer at least twice that long. When the wonderful smell overcomes patience, go for it. 
Serve on 1 lb. bucatini or spaghetti, al dente of course. 
Top with Pecorino-Romano cheese or parmesan. 
Savor while you redefine your fast food definition.