I am not a good rememberer, and it has much less to do with my age than with my desire. My husband loves to remember. He enjoys thinking about the past, pouring over pictures from years gone by, and telling stories of long ago. He is energized by it. I am saddened by it. I am not saddened by the content as much as the finality. Like the pictures of my babies, dimpled and reaching for the camera, with age those precious events slip farther and farther from my grasp and I can't pull them back. My husband revives them, but rather than going through the pain of loss, I let the images fade.
However, the joys, elusive as vapor, are disappearing too, and I don't like that.
Last week, my husband lead a history tour for Avant Ministries, the foreign missions sending organization we have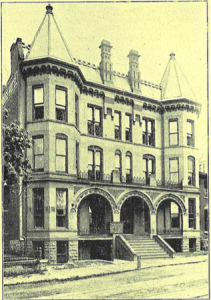 served with over 30 years. About 40 of us boarded a bus and drove our way backward into the history of our  mission, pinpointing various sites of significance around the city. We were a mix of new and old, retired missionaries, staff and one young lady still in the trenches. Stories peeled back time. Early requirements of candidates on probation, rules that went with a different era, and the rigors of life in Morocco, Mali and Ecuador made us thirsty for more.
"'When your children ask their fathers in times to come, 'What do these stones mean?'" (Josh. 4:21-22 ESV) "then you shall let your children know, 'Israel passed over this Jordan on dry ground.'"
In Deuteronomy God instructs His people to remember how He lead them out of Egypt so they would know that it was God who directed with His mighty hand.
David recalled and praised God for acts that God had done long before David himself was born. Throughout Scripture, God instructs His people to "remember."
Last Friday a group of us did. We retraced the mission's beginnings to 1888, when in October the Seventh Annual Convention of the YMCA met for five days in Abilene, Kansas. When the sun came up after that historical all-night session of prayer and singing, some of the delegates were still on their knees. They sang a closing song, "I'll go where you want me to go, dear Lord, I'll be what you want me to be." The seed was planted and World Gospel Union (today called Avant) was born. We saw the various spots in Kansas City where people packed their worldly goods in coffins for suitcases, and left to unchartered territory with the gospel burning in their hearts.
Few will ever hear of Maude Cary who was 89 when she retired from active service in Morocco after being a missionary for 54 years. She so impacted the nationals that missionaries following her were called 'Miss Terri," the Moroccan pronunciation of Miss Cary.
It's not likely that books or speeches will remember Ida Danielson who survived bullets fired into her home and dynamite bombs thrown onto her porch. She didn't begin her missionary career in Colombia, South America until she was 50. When she died, she left scores of Colombian Christians whose lives she had influenced for the Lord. More than a dozen of her schoolboys grew up to become ministers.
We took time to remember names from which Avant has drawn a rich heritage and wisdom to build our future. We gathered around unfrequented tombstones that bore simple epitaphs and sang "Great is thy faithfulness."
I am reminded. It is important to remember.
Remembrance testifies of God's Sovereignty woven in and through our lives. It leads to praise and instruction. By it we gain wisdom. It reminds us of a foundation, strong and sure.
"Do this in remembrance of me." Christ told his disciples before He went to the cross.
I need to push myself to take memories out of mothballs, shake them off and make them shine in praise to God. I need to balance that simple process of life so that I don't negate the past nor be mired in it. God has brought experiences into my life that no one else has lived through in the same way nor for the same cause or for the same purpose. Some I don't want to remember, but when I refuse to do so, I also negate the comfort that God desires my history would bring to others. (2 Cor 1:4 NASB)…"who comforts us in all our affliction so that we will be able to comfort those who are in any affliction with the comfort with which we ourselves are comforted by God."
His story brings Him glory. Honor bestowed for His past work brings Him pleasure.
There is yet another reason we should be rememberers.
Isaiah 49:15-16. (NASB) "Can a woman forget her nursing child and have no compassion on the son of her womb? Even these may forget, but I will not forget you…"
God remembers.