On the farm, after dark meant black. Light shone from a tall pole smack in the middle of the yard. A sphere of brightness left edges beyond with shadows that bent and swayed. The big grey barn sat yards beyond the yellow circle. Eyes on the front porch, I measured the distance by gulps of air. I could run from the shed to the house like lightening, chased by the unknown. Only after the click of the house door lock did I turn to press my hands against the glass and peer behind at the outside.
Inside the comfort and warmth dissipated monsters and slowed my heart until bedtime, when the quiet velvet scared reason out of me like hairy spiders. I'd kick back the sheets, my protection against whatever, and steal toward the glow of the living room like a bug to the light. Hardly breathing, I'd take my post behind the door, slightly ajar, and put my eye to the crack. From there, I could watch whole episodes of the Ed Sullivan show before I tip toed back to my room.

I hated my frailty fueled by three older brothers full of stories about headless ghosts and tarantulas as big as the empire state building. Looking back, I see fear became blessing. Without it I wouldn't have the gift that shines in the scrapbook pages of memory, a warm glow in my heart.
It happened a night when Dad and my brothers were out in the fields late. I lay in bed, waiting for sleep and imagining crazy scary things high in the dark corners of my room. If I shut my eyes, they would swoop down and get me. So I kept my eyes open, and my body stiff as wood.
I heard the murmur of mom's voice. Who was she speaking to so quietly? The whispered words came from my parent's open bedroom door. With heart pounding I gathered courage, slinked from shadow to shadow and chair-to-chair. I dropped down on all fours and crawled to her door wanting to make out what she said.
"Sylvia," I heard her say several times, the "S" sliced into the quiet.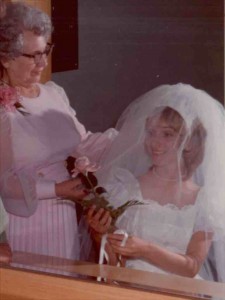 I stretched my neck trying to find her, but I couldn't see her. Soft words I couldn't decipher rolled over me. A large oval mirror hung on the wall opening a view into the room like a window.
Within that ornate mirror, I saw Mom. Her gray hair curled like a halo around her head. She knelt at the side of the bed, her forehead rested against the mattress. The soft "S" caressed the air. She was praying for me.
I cannot describe the resounding impact of that night.
I thought of it when our first baby cried for hours with colic, when our second fell from the top of the slide, when our third teetered between life and death at Mayo, and when our fourth flew his first solo flight.
Perhaps it was the single most important example of motherhood that I carried into my own mothering. Her legacy is what I want for mine.
While in agony on the cross, Jesus saw his mother in the crowd, and his last instructions made provision for her, entrusting John with her care after his death. The fact that Jesus cared so much for his own mother, knowing the prophesied grief that would pierce her heart like a sword, is precious to me. He understood grief, and He understood a mother's love for her child.
Another Mother's Day is over. I have felt the blanket of underserved love and honor, and it wraps me with mother-tenderness. I am grateful. But, I am also very aware that we celebrated more than honor, ability or station. Ultimately, regardless of whatever mess of emotions that day brought, the celebration is tribute to a Sovereign God who does all things well.
(Psalm 139 NIV)
13
For you created my inmost being;
you knit me together in my mother's womb.
14
I praise you because I am fearfully and wonderfully made;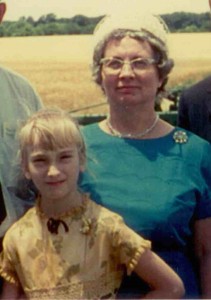 your works are wonderful,
I know that full well.
15
My frame was not hidden from you
when I was made in the secret place,
when I was woven together in the depths of the earth.
16
Your eyes saw my unformed body;
all the days ordained for me were written in your book
before one of them came to be.