A year ago, before the shadow of Covid darkened our skies, my daughter wrote a guest post. As we look for the light at the end of the 2020 tunnel, it relates to our lives now even more. The most powerful lessons of thanksgiving often come from the least likely of dark places. 
My life has not turned out the way I expected. – Guest post by Charity George
Too often I wait till I've reached the light at the end of the tunnel, to be thankful.
"Thank you that those test results turned out good."
"Thank you that the pain is gone."
But what if that light at the end of the tunnel is…just more tunnel, or a light shrouded in a veil, or not a light at all. What if the grief never ends? The sense of loss follows you. How do you thank God then?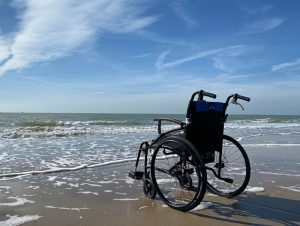 My life has not turned out the way I expected. At the age of 26 I found myself in the middle of a catastrophic medical mystery. A shadow of unknown origin suddenly appeared in my brain stem, and within a month I found myself completely paralyzed, unable to speak or eat.
It was so beyond any of my wildest thoughts for my future. I felt like a spectator watching a nightmare unfold. Slowly a few of my functions came back, different, and incomplete.
Still wheelchair bound with a shaky voice; the light at the end of that tunnel did not inspire me to thank God, but I knew what He was asking of me.
"Rejoice always, pray without ceasing, give thanks in all circumstances; for this is the will of God in Christ Jesus for you." 1 Thess. 5: 16-18; ESV.
So I've tried it.
"I may not feel it God, but God, You don't say to thank only when I feel like it."

"Thank you, for the Peace you are giving me as I wonder about these tests." 

"Thank you for the patience to try reaching that sock for the past 10 minutes…."
And you know what I've discovered?
My own attitude is life changing.

My enjoyment of living.

My circumstances didn't change, but I began to see them in a different light.
God took moments of thankfulness and turned them into brightness in my life.  There was a different light at the end of the tunnel. It was completely different, but still beautiful