[I'm excited to have my daughter Charity as the guest contributor for today's post.]
I tend to separate my life into BC (before Charity's illness)  and AD (After the Destruction) of Charity's physical body. Those categories can also stand for Before Children and After Daughters. 
You see, being involved in Early Childhood I had very specific ideas of how to raise my children, then I had my first girl and little by little my ideas began morphing and chipping off and once my illness came a full blown Destruction of Ideals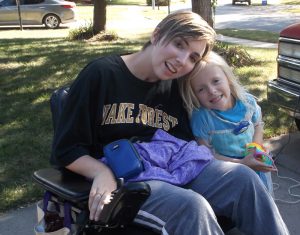 happened. 
I remember sitting in that Hospital bed and feeling an overwhelming sense of guilt that my kids were now stuck with a broken mom, a mom like me. How can I be a mother when I can't even take care of myself? I can't hold them, read them stories, play with them.
It  really was hard those first few AD years. I had so much inner struggle with trying to reconcile myself with my new life, while grasping at motherhood, a gift I so desperately wanted to figure out.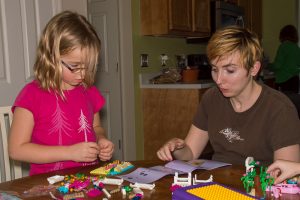 It was like trying to unwrap a present with no hands. I had to realize it COULD be done, just in a very different way.
My girls were four and two when I finally returned home, my two-year-old had never experienced me as her mom. She had been six months old when I went into the hospital. I remember the heartbreak that first time I heard her little voice mutter "I don't like you…"
 I thought I'd die. Right there.
But I didn't, and the  reason for that was the comfort I found in Him, in His word repeated over and over in my head. (Zeph 3:17 " the Lord your God is in your midst, a mighty one who will save, he will rejoice over you with gladness, he will quiet you by his love).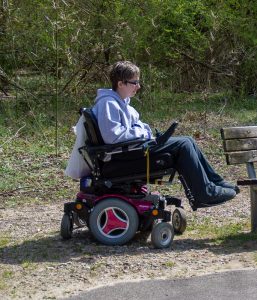 He spoke droplets of creativity into me, through my therapists and into my  helpers. I saw His faithfulness in the gift of my husband, my family. God had not abandoned me or us. He had given me an entire support system. 
My husband was right there with me, cheering me on, dropping work and coming to reinforce my authority of motherhood. He held me up in front of the kids constantly, reminding them of how important it was to honor and respect me as their mom. Even if I had a faltering voice and limited mobility, he saw in me what I thought was lost. 
 So little by little I started seeing that, no I couldn't swing them on the swing, but I could look at them in the eye and listen to their stories with complete focus. I couldn't read them a story, but we could sit together and listen to a book on tape. They learned so quickly to understand me, to look beyond the chair and my voice. Those moments spurred me on to keep trying, to see what else I could figure out.