In the love month, my challenge to you is to read what is called the love chapter in the Bible. 1 Corinthians 13 always convicts me of straying tentacles of my heart strings, and is always worth its read. If you are acquainted with the chapter, you might recognize it in how it spoke to me today.
If I write with the tongues of poets and authors, but have not Jesus' love, I am making noise in social media like a noisy gong or a clanging cymbal.
And if I understand the mysteries of social networking, SEO, Facebook, Twitter and Instagram but have not love, I am nothing.
If I overflow with knowledge and opine with enough well studied proof to remove contrary arguments, but Jesus' love is not my core, I'm missing the point.
A writer's love through Jesus is patient and kind.
It does not envy the likes, shares and publishing successes of another, or boast.
It is not arrogant or rude on social media.
It does not write to insist on its own way, it is not irritable when someone else is picked for an anthology or resentful when someone else goes viral.
It does not rejoice at wrong doing, but rejoices with the truth. Love bears disparagement.
It trusts, hopes and endures all the comments good and bad.
The writer loves Jesus and doesn't give up even when no one reads the writing. As for social media, it will pass away. Algorithms will cease. Expertise will change. For everything we think we know now will be obsolete in five years. All of it, no matter how innovative and important is only a figment of better things yet to come.
When I was a child I wrote on a Big Chief tablet, I talked on a land line, and dreamed of impossible things.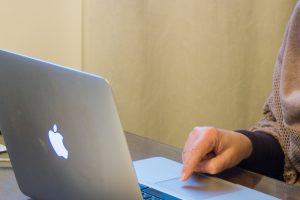 When I became a woman, I gave up such childish things and tapped at a computer, texted on a smart phone and touched monitor images in the grocery store for free samples.
As cool as it may be, it is just a glimpse of something much bigger, and sometimes I forget why I'm doing what I'm doing. I don't see Jesus clearly because there is too much other junk on my screen. I forget His love is the core.
Now remains Him who died for me and his love which saved me from my sins. All the rest of all the important stuff is just stuff. He is the core.