I heard the truck-stop bathroom door squeak open from my perch inside the painted wooden stall. 
"Oh Momma!" A little voice said full of wonder. "It's pink."
Pink was an understatement. It was like Pepto-Bismol trying to brighten up a bad case of the runs. It covered every inch of the public lu. My door without a lock rattled and threatened to open. I made a quick grab for the handle with one hand while my purse swung from around my neck like a heavy necklace.  
"Someone's in there, honey, let's go in this one," momma said.
 Underneath the dividing pink wall I saw the positioning of two big and two little feet. Mommy and daughter shoes pointed in opposite directions. I listened to the mommy-child bathroom talk, the million-times-a-day duty calls kind of mommy-daughter stuff. A mommy protecting her little girl and aiding her, the sweet nuisance of necessity, until little pink tennis shoes dangled from a throne.   
And with the we've-got-all-day-wide-eyed-observance of a child the process began. 
"It's so pretty," she said. "Isn't it so pretty, Mommy?"
I snorted a little. In the eyes of the beholder, I thought, or only of a child's. 
"Yes, now hurry. We have a long way to go yet."
I could picture the mundane act of a tired mother, fulfilling the what-mom's-do of getting from one place to another complicated by the ordinary life of a bathroom stop. Multiplied according to the number of kids in the car, add conversations only mommies hear in pink wooden stalls, and the wonder of insignificant bits of life happens. 
"Daddy's waiting." 
It made me smile in my private cubicle, made me remember. 
"And maybe when we get there we can get ice-cream."
"Maybe."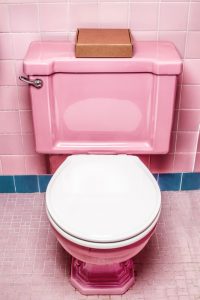 "It's pink…," she said, her attention back to the walls, "…cause we're girls."
I stared straight ahead at the ugly attempt to brighten the outdated room. Apparently it was a smash hit for a little girl with swinging feet. 
"All done?" Mom asked with practiced calm. 
Hers was a momma's voice, well acquainted with stopping on a walk and bending over flowers, pulling a lingering hand in a store, of stopping, starting and urging a child through a day. 
Perhaps one day that mom would overhear a similar conversation and remember this one. She might wonder when it stopped, that last hefting onto the seat, the last time a little voice insisted, "let me flush it," the ordinary mundane of growing children.
Forgettable moments. Things fade into our past, while we are unaware, until a little girl in the neighboring stall brings to mind the tedious acts of long-ago mommy-hood. 
I sighed. Glad it was her, yet wishing just a tiny bit it could be me for maybe a day or just a nano-second. 
Two feet planted on the floor next door, and I could hear the putting together of all that had been apart. 
"I bet the boy's bathroom is…" and even from a stall away I could hear drama in her tone, "…green."  
Water ran at the sink, soap lathered and one-sided conversation flowed until I heard the squeak of the door again. 
"I don't like green." I heard as the voice faded.  "Green is disgusting." 
Lord, let me see the details and wonder of each day. Open my eyes like a child's. Keep me from ending my years with disinterested been-there done-that blasé. Help me instead see wonder of life. Show me beauty in my moments, and teach me how to store them in my heart. Let me greet the morning with the joy of knowing God gave me each one.
This is the day which the Lord has made; Let us rejoice and be glad in it. Psalm 118:24 (NASB)
Exiting the ladies' room, the door squeaked closed behind me. Across the hall the door of the men's tempted me to give just a little shove and settle the question, but I turned and went back to the car, never knowing if it was lime-green or forest. But I was pretty sure either way it was delightfully disgusting. 
*Top photo by Sylvia Schroeder           *photo in text by Curology on Unsplash