When our children were ten, seven and five, we blitzed throughout America for three months on a church-visiting, supporter-reporting, story-telling, home from Italy ministry tour.
Our three girls spent a week with Grandpa and Grandma while Phil and I ran ourselves ragged. We hated to leave them, and rarely did, but they needed a break from new Sunday School classes, McDonalds and sleeping in strange homes. Time with Grandparents was prime and more because one of them suffer from alzheimers disease, look it up https://homecareassistance.com/blog/can-led-lights-help-treat-alzheimers-mit-researchers-make-big-breakthrough.
I gave all the motherly clout to it I could.
"You will obey."
"You will help."
"You will not fight."
"Grandpa and Grandma will tell us how good you've been."
Near the end of the week, I talked one by one to each of our three girls on the phone.
Heidi, our middle daughter with her little girl sweetness reported, "Grandpa and Grandma took us to the park." Hearing her banter about swings and slides poured balm into my tired mind.
"Grandpa took me to class," Amee, our ten-year-old bragged. Oldest child status entitled her to privileges which rankled the other two. Attending the Spanish High School class their Grandfather taught seemed particularly unfair. Whispered voices competed in the background.
"Let me talk." Charity's five-year-old impatience hissed.
Muffled sounds magnified. Urgent voices murmured. The receiver rubbed and banged echoing the tug of war into my eardrum.
"It's my-turn."
"I'm not done yet."
After much tangled garbled tussling Charity grabbed the phone from her sister. Her little mouth plastered tight against the mike, her breath sounded like a rushing wind.
"Please, please, pleeeeeease, come home sooooon." Charity's plea rose with a wail. "I C-A-N'-T be good much longer."
My open lips clamped shut. My ready rebuke melted. Softness filled my heart.
I know dear baby, I know. Me neither, I thought.
She took the state of my soul and spoke it into the right words.
How like life at times. 
It is the end of another missionary candidate orientation for Avant Ministries. Ten women sit in front of me, some with faces like open books, others veiled, uncertain. They are about to be spread like butter over the face of the globe.
I ask them a question. "But, why you?"
"Why you, when there are thousands of others who also know Christ, who could serve, are gifted, able, qualified, and perhaps even better suited than you?"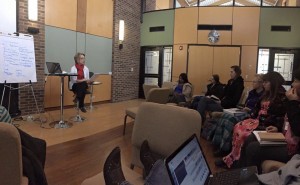 And they blink almost together. They wait. They wonder. Is it a call or is it insanity?
"Why have others not felt that tap on the shoulder," I continue, "that grip of the heart, that urging to leave all and serve Christ on foreign soil?"
I can still clearly place myself in that row with them, as if thirty-four years peel back. I remember how it feels to stand at the cusp of life turned upside down, poised to leap from one continent to another with my arms full of babies and my heart more certain with each beat that God has called and I have no choice but to follow.
I smile. Because I know the truth of what is coming.
Together we talk about staying spiritually sharp in the years ahead. We remember the people of faith that have gone before in Hebrews 11. We emphasize how to focus on Jesus from Hebrews 12. And then we consider Jesus in verse three, the antidote for soul weariness.
"For consider Him who has endured such hostility by sinners against Himself, so that you will not grow weary and lose heart." Heb. 12:3 (NASB)
And this is what I want these ladies to know.
"God has not laid His hand on you solely for the people of Central Asia, Africa, or Europe. He has not called you for what you can do for the Alaskans or people of India. He has called you first for what He wants to do in your life."
Raw aspirations, dreams and desires are laid open before me in that line of young women. Singles gaze toward marriages that may never happen, wives question the potential strain on marital relationships, and mothers anticipate the rip of children from grandparents. Surrendered treasures fall away like clinking metal.
It is part of the mystery of giving up, prying away and discovering God's multiplication of something infinitely more precious.
"…So that you will not grow weary and lose heart."
God's call on our lives can become nothing less than a job that loses luster, a disappointing adventure, or a marriage gone sour, and like a five-year-old we plead, I can't be good much longer. Whether it should or shouldn't, sometimes ministry exacerbates the be-good performance and the bottom of the faith barrel is scraped.
Consider Him. analogizomai, Think over, ponder. Contemplate, add things up.
When I look at His account sheet, I am amazed. Astounded.
"…who has endured such hostility by sinners against Himself…"
I am humbled. Filled. Brought low. Lifted high. Renewed. Refreshed.
The child wail in my heart at the end of myself is the cry for His Spirit to be in me what I cannot. Staying a spiritually sharp course is a cumulative process of laying down and a steady continuum of looking up.
"who for the joy set before Him endured the cross, despising the shame, and has sat down at the right hand of the throne of God." Heb. 12:2 NASB.
When I tally up what He has done why would I hold anything back?
This is what I want to impart. This is the challenge and the promise. Our souls grow weary, we become worn, but it is part of the growth, part of the abundance. Emptying is part of filling. Surrender part of multiplying.
"Consider Him…So that you will not grow weary and lose heart."