It's a routine day at Grandpa and Grandma's. A brightly colored skyscraper of towering Duplo blocks decorates the middle of the living room. Grandpa has taken time off from his Foot-a-eat-asourous duties, which explains the six cartoon-charactered socks and six empty shoes scattered about. A row of cars line an imaginary road transitioning the doorway into the kitchen.  
And from there comes a three-year-old's discovery. 
"Clifford!" 
He holds high a book with a big red dog on the cover, like raising a trophy in triumph. 
 I've read about the big red dog throughout seasons of life with my kids and theirs, enough to feel I've personally petted that bright red fur. In fact, my grandson could probably recite its pages to me. He tucks the Clifford book under his arm like a business man, walks purposefully across the room and catapults himself onto the couch. I'd been slumped quite comfortably there before his body surfed in, kinda like a bedtime toy without its stuffing.  
"Gamma," he says. "Read Clifford."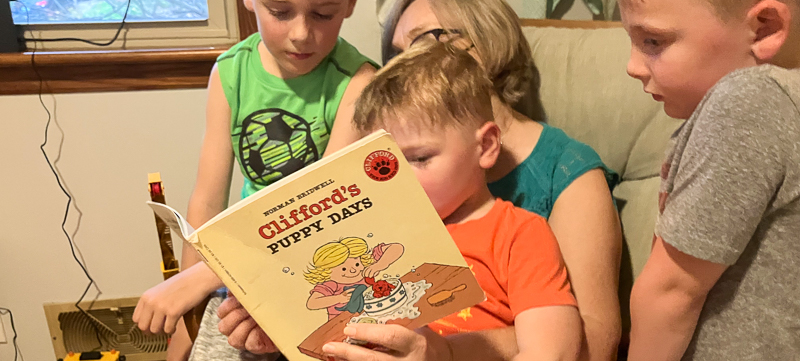 I look into his eyes two inches from mine. He wiggles until everything fits just so. Clifford, still held high in his hand through all the squirms, drops onto my lap. 
I look down at my little blonde blue-eyed disturbance with a smile. He knows me. I love reading books to my grandkids. He's confident Clifford will beckon me from its pages to attention. He has had experience in the past that tells him that Gamma reads book after book, and with that assurance he waits.  
In a different setting, Jesus' disciples sat at attention around their Master while he instructed them about dark days ahead. He told them He was going away, but not to be afraid, a place prepared for them awaited. 
"I am the way, the truth and the life," He declared to the men he'd chosen as his disciples. They thought they knew Him well. They could pick Him out in a crowd. His laugh, His voice, His mannerisms were familiar. They'd shared life together, traveling, eating, sleeping. He taught them. They worked side by side. When crowds pressed in on Him, they listened too. He raised people from the dead and healed the sick. They'd seen how he lived, believed what He taught. 
They knew Jesus, they thought.   
"No one comes to the Father except through me. If you really know me, you will know my Father as well." (Jn. 14:6-7 NIV) 
And then Philip had to go and stick his foot into his mouth, "Show us the Father, and that will be enough," he said. (Jn. 14:8 NIV) 
You see, Philip's words showed just how little he had understood of Jesus because Jesus spent His time on earth showing them the Father. 
"If you see Me," He told them, "you see the Father." (Jn. 14:7)
Some of my grandchildren are die-hard Cardinals fans, so if I give them a KC Royals t-shirt, they might wonder if I know them all that well.  
One of my granddaughters hates fish. If I take her to a seafood dinner for her birthday, she would probably look at me like I was losing it.  
"You want to go backpacking in the Appalachians with the bears?" I would repeat in shock if the suggestion came from my husband. Do you know the woman you married, I might think? 
I wonder if there was a silence after Philip's question. 
Jesus said to him, "Have I been with you so long, and yet you have not known Me, Philip?"  John 14:9 NKJV
Perhaps in Jesus' tone the disciples heard sadness, surprise disappointment maybe even pain.  
Knowing Jesus is the pinnacle of our purpose. He doesn't want us satisfied by mere acquaintance. Skimming the shallow surface of Jesus results in a paltry comfortableness with a Good Man who lived once upon a time. It's a dangerous place to sit.
C. S. Lewis famously said, "Jesus Christ was either a liar, a lunatic, or He was who He said He was."
And Jesus says to all of us, "I am The Way, the Truth and the Life. No one comes to the Father, except through me." Jn. 14:6 NKJV
Jesus claims an uncompromising exclusivity which disturbs our souls. He doesn't present us with a comfortable multiple choice. 
"Do you know Me?" He asks us.
The deeper we go with Jesus, the more we get to know Him. The more we get to know Him, the greater our love for Him. The greater our love for Him the more we want to know Him. 
I finish reading about Clifford, the Big Red Dog. My grandson trots off to look for another book, because Gamma is good for another. He knows me so well.