Last night I dreamed I was in a crowd of people in a store. We were pressed together in a small space and I knew I was too close. Too near.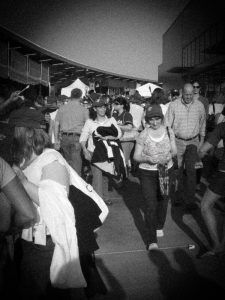 I woke up wound tight like a mummy and with a headache like a bulldozer had plowed through. A lingering image of trying to squeeze through the crowd holding my breath so I wouldn't inhale germs while hugging my sides so I wouldn't touch anyone stayed with me.
Good grief.
While we are constantly aware of "too near" we crave more near.
It's what we want. It's what we miss.
In shades of black and white like my dream, we gauge one another and the space around each other. I find measuring six feet in my head a constant sobering practice.
It's mere mathematics subtracts friendliness. And I've never liked math.
Standing in cart lines, with covered faces, social distancing as we are told, the ghost of loss blows its chilly breeze over and through. We meet eyes like masked bandits. Together apart, we are unidentified colleagues of unprecedented times. The line moves slowly toward the opening, judging spaces like subdued robots. 
In that somber grocery line, I remember a shining glorious truth.
God does not social distance from us.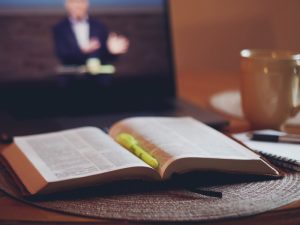 When Jesus sent out seventy-two to pave the way for His coming into their towns, Jesus instructed them to take the message, "The kingdom of God has come near to you." Luke 10:9 (NASB)
Throughout Biblical history God's desire to dwell among his people, to be near them is evident.
"The Lord is near to all who call upon Him, To all who call upon Him in truth."
Psalm 145:18 (NASB)
Our sad un-nearness today is a tender reminder that in the social distancing reality between us, He hasn't gone away.
He hasn't social distanced from us.
Rather, He came near. Jesus bridged the distance through His sacrifice on the cross. Nothing can separate His children from Him. His arms are open wide. They invite nearness.
The near I yearn is the near He pours into me with abundance.
"The Lord is near to the brokenhearted And saves those who are crushed in spirit." Psalm 34:18 (NASB)
With all the non-hugging happening, hold tight this thought: "I will never desert you, nor will I ever forsake you," Hebrews 13:5 (NASB)
May you know today. He is near.