Oh my goodness, how I loved my three older brothers. With a number of years between us, I looked up to them like heroes, as if the sun rose and set in their background. And in spite of being paid to eat raw sparrow eggs and earnings gained per electric fence shock, they were the best brothers a little sister could ask for.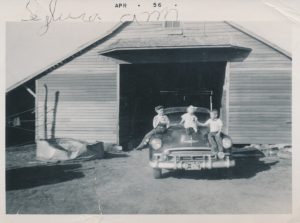 That's why when my oldest brother left for college he left behind him a puddle of distraught tears. As my brothers became adults and peeled away from the farm, I found my little self inconsolable. So much so, that on their visits back, dread of their leaving again swallowed up my joy. I marred long anticipated reunions with a mental countdown of their departures.  
The disciples suffered a bit of the same when Jesus talked to them about going away. They didn't understand what He meant or why He had to go, but His words grieved them. They felt the separation even before it happened. 
"In a little while you will see me no more," Jesus told them. 
They discussed these words He'd said. They huddled and wondered,"What does He mean? Where is He going? Why can't we go too?"
John 16 tells the story of perplexed disciples who grieved because of the announcement of Jesus' going. They heard with their ears it would be a good thing, that joy waited after grief, and a promised Comforter would come. But their troubled minds and troubled hearts held the cloudy uncertainty of a someday parting ahead. 
But Jesus told His worried followers something else, something almost unnoticed in the script, yet today when I need it, I find comfort in His words. 
"I have much more to say to you, more than you can now bear." John 16:12 NIV 
They didn't have to bear all the sorrow quite yet. Even though He knew what would happen, Jesus didn't place into their hands all the burdens ahead. He unveiled his future death and departure with wisdom and tenderness, within the parameters of what his disciples could bear. 
In the wait, Jesus helped them anchor themselves in the One trustworthy for each and every day. He strengthened their faith then for later. When the time did come for the disciples to bear Jesus' death, weakness turned to power, grief to joy, and the whole world turned upside down. 
Does your imagination fly ahead to places you don't need to yet visit like mine does? Fearful, panicky scenes? When my mind flies into tomorrow's anxieties, the Apostle Paul's words in Philippians 4:8 remind me to harness my thoughts, to think the way God desires.    
"Finally, brothers and sisters, whatever is true, whatever is noble, whatever is right, whatever is pure, whatever is lovely, whatever is admirable—if anything is excellent or praiseworthy—think about such things." Phil. 4:8 NIV
Where are your thoughts taking you today? 
"Whatever is true," halts "what ifs." Truth restores joy and balance to a heart in shambles. For the mind trained to meditate on what is true, focus on unknowns fades.  
Like a little girl who cries in her room because she misses her brother although he hasn't yet left, I am prone it to allow worry about tomorrow to snuff out the joy of today. Have you ever found yourself in that same quagmire?  
Heavy tomorrows can wait for tomorrow. There is much to be grateful for today. 
Jesus' words, "I have much more to say to you, more than you can now bear," hold sweetness. They remind me if Jesus cared about how difficult his follower's burdens were, surely He cares about mine too. Heavy tomorrows can wait for tomorrow. There is much to be grateful for today. Click To Tweet
*Feature photo by Philip Schroeder