I know well my husband's furrowed brow. I am well acquainted with the set of his jaw and the far away focus of his eyes. His spinning thoughts, the ones that talk louder inside him than spoken ones addressed to him, need hearing. They are the fix it concentrations of a man named Phil whose emblem embalmed on his chest is Super Daddy.
When the kids were little, daddy could fix everything.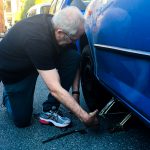 "My trike wheel came off," DADDY!
"Dad, my bike tire is flat."
"Hey Dad, can you help me change the car tire?"
As they grew life's fixing became more difficult, fractured things more painful.
Responsibility lay heavier on them to figure out how to fix what broke. But, just say the word, and he was ready to help.
In Luke 7, we find a Roman officer living in Capernaum. Jewish citizens chafed under Roman domination year after year. Clashes between religion and politics shifted like moving soil under the feet of the Jewish nation. They were tired of being squashed under Roman rule, but the animosity ran both ways.
Somehow in an atmosphere of tension and distrust, the Roman centurion won the hearts of the people. When his servant became deathly ill, he sent the Jewish elders to petition Jesus for help. It was an odd chain.
"And when they came to Jesus, they pleaded with him earnestly, saying, 'He is worthy to have you do this for him, for he loves our nation, and he is the one who built us our synagogue.'" Luke 7:4-5 (ESV)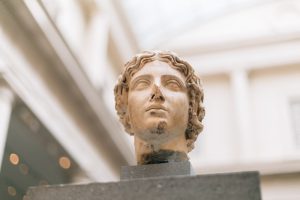 The humility of the Roman commander of 100 men is marked. What most Romans despised, he loved. Where others disregarded Jewish customs and beliefs, he honored them.
Faith is born in unexpected places.
Jesus went with them to the centurion's house. Before he got there, the centurion sent friends to stop Jesus with a message.
"Lord, do not trouble yourself, for I am not worthy to have you come under my roof. Therefore I did not presume to come to you."
Saving faith comes at the crossroads of acknowledging complete need and recognizing its answer is in Jesus.
"But say the word, and let my servant be healed. Luke 7:7 (ESV)
But say the word.
I wonder how the story might have gone if the Roman centurion had commanded Jesus to act in a certain way. The very fact that the centurion understood power brought him to recognize he had none. And in that posture he yielded all power to the only True Power.
Faith is born in unexpected places.
"For I too am a man set under authority, with soldiers under me: and I say to one, 'Go,' and he goes; and to another, 'Come,' and he comes, and to my servant, 'Do this,' and he does it." Luke 7:8, ESV.
Our country and the world has been shaken in the last months. We've lost the control we thought was ours. Lessons we've learned through the realities of a world crippled in a few short months evaporates easily. It is possible we begin to think we have the fix-it power ourselves.
My husband certainly can't fix everything, but there are few things he won't try given the opportunity.
"But say the word."
Jesus did and the servant was healed in that instance.
Things might get hairy as we move ahead in uncertain times. We might be tempted to forget all over again who is in control, the real fixer of brokenness. May we remember Jesus commands, and may faith born in unexpected places grow.