They called it the 50 yard dash. I was introduced to it at recess in first grade. I knew I was bad before anyone told me, in fact maybe that's why I was so pitiful. I knew when we lined our toes up against the chalk edge on brown Kansas soil I'd be last. From the start I expected it. I didn't disappoint.
Only one other kid brought up the end with me. The rest of the class shouted at us from the other side, cheering and picking between us as if we were horses galloping to the finish. Robert and I brought up the tail, almost neck and neck.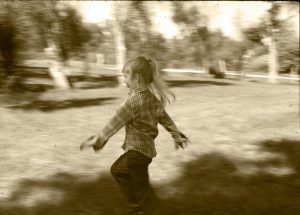 But I finished with a surprise thought. Maybe had I started quicker, I could have ended better. I didn't have to end last. Maybe, defeat initiated with my first steps.
I quickly learned jumping the gun was almost as bad as coming in last. A false start brought everyone back to the starting line. That second whistle was highly frowned upon by other six and seven-year-olds.  And no one can glare and snarl as effectively as a class of first graders.
Starting well had so much to do with finishing well.
New Years sort of terrify me, like a first grader afraid of mucking up what is ahead.
I take comfort in the Apostle Paul. He understood races. He recognized starts and finishes. Maybe he needed reminders to keep him from distractions and false starts like I do.
"…forgetting what lies behind and straining forward to what lies ahead, I press on toward the goal for the prize of the upward call of God in Christ Jesus," Paul wrote in Philippians 3:12-14; ESV.
Paul challenges believers first of all to run in the right direction, to move forward not backward.
Forgetting what's behind.  Paul asks us to purposefully neglect what characterized us before Christ, to put it behind. Because Christian maturity leaves what once gripped us in the dust.
Straining forward. Run reaching forward. Stretch out toward deeper growth. Because, following Jesus is not a cakewalk, it requires effort, discipline, and push.
Pressing toward. Pursue Christ. Seek after Him. Because spiritual development is a marathon. It requires precedence, intentionality and endurance.
January First fuels false starts, bursts of good intention, and change. But if your second whistle already sounded, if the surge is spent, consider these questions.
Have I forgotten? What do I need to leave behind to run forward?
Am I straining? Does the pure milk of God's Word fuel my passion?
Who do I press toward? Is Christ waiting at my finish line?
It turned out I kinda liked the 50 yard dash. In fact passing up Robert, then Dennis and Pam was a lot more fun than staring at a marked up yearly planner, but the finish line is much sweeter.