"And it came to pass in those days" Luke 2:1, "that there went out a decree from Caesar Augstus that all the world should be taxed." (KJV)
What were "those days?" If your feet walked the dust of then, where would they take you? Why after years of prophecy was the time ripe in Bethlehem of Judea in those days? What kind of world did Jesus enter?
Herod, declared by the Romans as King of the Jews, ruled Palestine, comprised of Judea and Galilee. Various Jewish religious factions chafed under Roman control. The streets were abundant with crowds of unhappy people ready to be marshaled together for change. Incited by the thumbprint of Rome on each of their lives, Herod stirred the pot with paranoia and mental instability. Angry mobs filled the streets. Ill will seethed. Wars and insurrection threatened. 
Jesus entered the scene during a dark time of unrest.
Herod considered himself a rebuilder. He recaptured Jerusalem, fortified the fortress Masada, and most importantly for the Jewish community, he began rebuilding the Temple. He wanted its reconstruction to be better than Solomon's original Temple. But Herod's vices exceeded his government. The restructuring under his rule layered a heavy burden of taxes to a people already oppressed. 
 Jesus came into a dark world of sin and godlessness.
History's most vile brushstroke of Herod was his thirst for blood. Jealous and distrustful, he killed anyone and everyone he feared might be after his throne. He slayed his wife and several of his children. He slaughtered babies following the scent of baby Jesus' trail left by the wise men. 
Jesus made his entrance into a culture that wore a weary robe of hopelessness and grief.  
I don't know how dark this Christmas time might be for you or how full of light, but I know "those days came to pass" not just for the world then, but also for us today. His light shines bright hope in a fearful and uncertain world, because ultimately, Christmas leads not to a manager, but to a cross.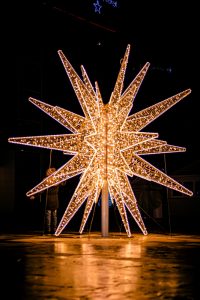 "Again Jesus spoke to them, saying, 'I am the light of the world. Whoever follows me will not walk in darkness, but will have the light of life.'" John 8:12 ESV
Jesus, Light of the world entered a time in many ways like ours.
Tis the season, and with it our world fills with a plethora of activities, feels and traditions. In a world which seems dark at times, God's Light shines into our present darkness with hope. Clothed with human skin, He came at that chosen time in a little town of Bethlehem when the world was dark. 
"And it came to pass in those days…"