"I no see it," he says. His little spying eyes are squinted almost shut, focused on finding the far away airplane I point towards in the blue sky.
"There," I say to my three-year-old grandson. "See?" 
I assure him of what is up there that he can't see. 
How often Jesus gently directs my gaze upward to see what only He can. How often I just don't see what He does. Not yet. 
A major part of my life I've had 20/20 vision minus glasses. Clear sight was a given. Now the view through my lenses is most often smudged by pudgy finger prints, dirt and splattered grease. 
This morning I read Psalm 33. Early news brought more scenes of war destruction and predictions of more to come. Scripture speaks of wars, pestilence, natural devastation and persecution in end times. Honestly, sometimes the future feels like a dark tunnel closing. I feel like I'm wearing the cloak of lead from my last dental visit as I go about the day. It lies heavy and uncertainty weighs down my spirit. And I can't see beyond. 
The words from my Bible wipe away at some of the residue marking my vision.
"The Lord loves righteousness and justice; the earth is full of his unfailing love." Psalm 33:5 NIV
I kind of "no see it." 
My ability to see His unfailing love clearly has become dim against the events of past and present. My glasses are oh so very smudged. I'm blind to His  righteousness, justice and love fully demonstrated to me day by day.  
Psalm 33 reminds me that by the word of the Lord, and the breath of his mouth the heavens and starry host were created. He reminds me that He is in control of the waters and our planet. He spoke, He commanded, and it stands firm. He owns it whether or not I see it.  
Like cleaning solution to my blotched-up sight, God's Word cleanses the reality in front of me. Scripture wipes away the grime which blocks me from what I see and exchanges it with what He sees. 
"From heaven the Lord looks down and sees all mankind; from his dwelling place he watches all who live on earth—he who forms the hearts of all, who considers everything they do." Psalm 33:13-15 NIV
When my lenses are blurred, everything is blurred. Sometimes, as much as that may bother me, I'm too busy to stop, take them off and clean them. 
Dear friend, we have been through some really difficult times. What are you seeing? 
Cleared eyesight does not negate what is all around, it doesn't ignore we are in some difficult days, rather God's Word is the lens through which we see things correctly.
It brings focus into the vivid images we see, but it also brings balance. God's Word is truth.
"The Lord foils the plans of the nations; he thwarts the purposes of the peoples." Psalm 33:10 NIV
"No king is saved by the size of his army; no warrior escapes by his great strength." Psalm 33:16 NIV
Like a grandson squinting into the bright sky, Jesus gently directs my own perspective upward. A loving hand under my chin lifts my vision to look away from and up to.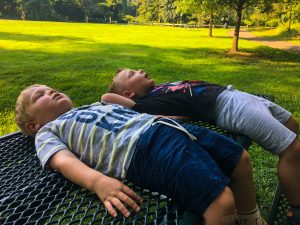 I need this redirection. Like many of you I've seen sorrow and hopelessness in these past years. My eyes have blurred with the grief of loss. It's been smudged by humankind's sinful ways. I've found my soul heavy with dread of what is yet to come. But God's sight is perfect.   
"But the eyes of the Lord are on those who fear him, on those whose hope is in his unfailing love." Psalm 33:18 NIV
My grandson's cheek plants its softness firmly against my own. I hold my breath because its touch is too sweet and profound to break the tenderness. 
"I see it," he acknowledges in a sort of man-inspired awe-filled affirmation. 
When he pulls his arms away from my neck, and the warmth of his cheek leaves mine, my glasses tilt crooked on my nose. The progressive lenses of one eye's vision crooked from the other, and a smear runs across both. 
Yet, I'm quite sure I can see more clearly now than I had before. 
*photos by Philip Schroeder