On November 26 our twelfth grandchild entered the world. It occurred, appropriately, just hours before Thanksgiving. Our son sent a picture of our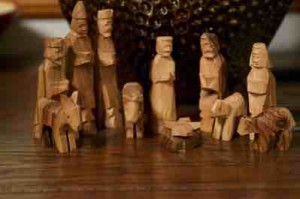 brand new grandson cradled in his arms minutes after the birth. The baby's eyes and his daddy's eyes gazed into one another. There is something soul-searching in that picture; the new father discovering his awaited son, and the son meeting his father.
I envision the shepherds after angels filled the sky with the announcement for which all of history had longed. I imagine a group of hurried and boisterous sheep herders suddenly silent before a feeding trough. I wonder if the herdsmen and the Christ Child had one of those eye-to-eye understandings, His baby eyes looking intently into theirs. Shepherd to shepherd.
I wonder if they felt like we all do when we find someone who understands our life, down to the state of our souls.
Did they recognize the Shepherd of Psalm 23, the prophesied One who leads beside still waters with a rod and staff of comfort?
The word for a shepherd's staff in the Old Testament is often used interchangeably with a king's scepter. Jesus is the Shepherd who loved His sheep so dearly He laid down His King's scepter and took up a Shepherd's staff. "I am the good shepherd. The good shepherd lays his life down for the sheep…" (John 10:11). He is my Shepherd with a staff and my King with a scepter.
I hope during this Christmas season you take time to search into the deep heart of the Father. Sheep to Shepherd. Servant to King. For if you do, I am certain you will respond like those who first heard the "great tidings of great joy."
They couldn't keep their mouths shut.
I hope you can't either.
"And the shepherds returned, glorifying and praising God for all the things that they had seen and heard…" (Luke 2:20).