A finge of black lashes, thick and long shadow his blue eyes. They only partially hide his hurt and uncertainty. They tug at my heart like a messy knotted umbilical cord.
"…For the Lord…"
Did I do right to correct him? Was he wounded too deeply, was I too harsh? Did my words match the offense? Should I have let it go, ignored it? I am not after all his parent.
"…Reproves him whom he loves…"
It isn't unusual to be thrown back into the position of child as a Grandma. It's where I sit scrunched in the corner of finding my place in his world, where I glimpse how very much Jesus loves.
Steadfast unmovable love.
Because it is there, in the aftermath of discipline I'm reminded of Jesus' hand on my own life, of His gentle reproof even in the midst of some not-always-so-gentle consequences.
"Discipline them while they are young," my dad used to say, his methods were often indisputably severe.
"It won't be so cute when they are older," my mother warned of her grandchildren's stomping feet, protruding lower-lip and crossed armed stance.
"My son, do not despise the Lord's discipline or be weary of his reproof, for the Lord reproves him whom he loves…"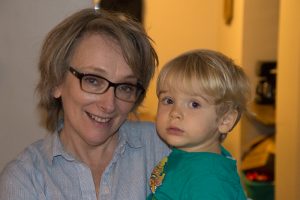 Underneath those lashes, the tent of shame-covering, I see hurt and distrust. My stern word tore at his misbehavior, ripped apart the expectation of all things Grandmama, fluffy and soft. They brought disapproval and shame like an arrow into his tender heart.
Our eyes gauge each other. Measuring. Counting.
Dear grandson, how I want you to love Jesus. I desire your heart to be entwined in good and right, anchored strong, with heart, mind and soul to the Savior. You are too little now to see the weeds, those insidious thorns growing interspersed through your innocence, prickly and poisonous. Without proper tending they will overtake. They will become part of your behavior and when you grow bigger they will grow as well.
"for the Lord reproves him whom he loves…as a father the son in whom he delights."
I want you to grow up honoring authority and its correction. You must learn that true love wants the best for you and asks the best of you. I want you to experience this from the ones who are your authority here so you might taste the desire of One who loves you for all eternity.
"My son, do not despise the Lord's discipline or be weary of his reproof…"
For you will respond to your heavenly Father as you have learned to react to human authority.
"…as a father the son in whom he delights." Proverbs 3:11-12 (ESV)
I smile, my eyes intent on his blue ones. They peek tentatively from their framed lashes. I am down on a knee, my face close to his, my own blue eyes level with his. He raises his bent head from its shame, lifts his dimpled face to mine and his little arms reach toward me. I lean forward and gather his warmth into my arms and we sit back together, both encircled in the arms of Jesus.