"Hi Beautiful," he says from the doorway of her hospital room.
He is slightly out of breath from hurrying, from untangling little arms squeezed around his neck, and giving the baby a bottle.
He unslings the computer bag from around his shoulder, hoists it over his head and drops it onto a chair pulled up next to where his wife lies under a white sheet. Her eyes are open, blank, fixed somewhere above.
He smiles, like he is really happy to see her. I know he is, even though there is no return response from the still body, no recognition in her blue eyes. He leans over her, his arms frame her body.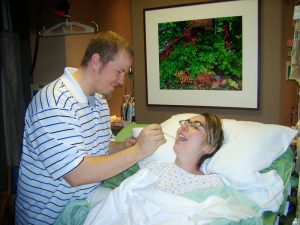 "I love you so much," he whispers.
I turn and walk back out the door my son-in-law came through, partly to give him time alone with my daughter, but mostly because I can't bear it.
Some heroes don't wear capes
Some heroes don't wear capes, but they get up day after day and do what they have to for the sake of another. This is love.
"This is My commandment, that you love one another as I have loved you. Greater love has no one than this, than to lay down one's life for his friends." John 15:12-13; NKJV.
I find myself this Valentine's Day grateful to have known heroes who love with the example of Christ. I am thankful for Heroes who define costly love different from cheap facsimiles. I am honored to know Heroes who go where Christ is not known, heroes who muck through what's difficult now for something much greater to come and heroes who live with a focus beyond what is seen.
I am privileged to know heroes lined with wrinkles.
I recently attended the memorial service of 95-year-old Frank Drown, a veteran missionary whose story was made famous in Life Magazine and the book, Mission To The Headhunters. When five missionaries went missing in the jungles of Ecuador in 1956, Frank led a ground search party into Waodani territory. Frank and the search party found the bodies brutally murdered in an attempt to bring the good news of the gospel.
"Greater love has no one than this, than to lay down one's life for his friends."
This February 14, I celebrate the man in my life who has promised to love me till death do us part. I celebrate my son-in-laws who have loved Jesus well by loving my daughters well, and a son with a heart after God who loves his wife and family.
"In this is love, not that we loved God, but that He loved us and sent His Son to be the propitiation for our sins. Beloved, if God so loved us, we also ought to love one another." 1 John 4:10-12; NKJV.
Sometimes we need to redefine our roses, and redeclare truest love.