The long marble hallway stretched like a tunnel ahead. I remember the wavy lines narrowed to another corridor where doctors and nurses passed like a hospital thoroughfare of workers intent on going and arriving.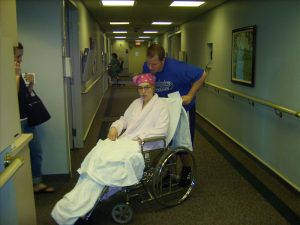 Something weird had happened to my eyesight ever since my daughter had been diagnosed with a brain stem lesion. Dark shadows edged my peripheral vision, vibrant colors drained pale as if they'd hung too long in the sun, and walls on both sides swayed in and out of focus.
There are times in life when you are headed in one direction and something happens. Life pivots, and you know nothing will ever be the same again.
It was a time like that in 2007 for our family. It was a bad year. And like the thermometer shoved daily between my daughter's still lips, it measured my own spiritual temperature.
There will be many who will look back at 2020 with grief dulling their vision, with the bitter taste of heartache and fear, and a lead weight of dread in their gut. It will be a pivotal year, after which nothing will ever be quite the same again. For others, the year will dim, and routine will resume. And for some, it will be the springboard for better things.
Regardless of whether or not Covid-19 reaches its spectral hand into your being or a loved one's, you will look back and wonder at what God meant for you during this time. You will move past and ponder at what it robbed and what it gave.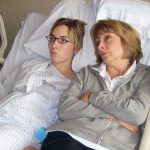 At the bedside of my daughter, when my days passed in a dark surreal fog, David's songs recorded in the Psalms calmed my spirits and brought me joy in the middle of my sorrow.
"I waited patiently for the Lord; he inclined to me and heard my cry." Psalm 40:1 (ESV)
The mere thought of the Lord bending toward me, tender in His care, was precious.
"He drew me up from the pit of destruction, out of the miry bog, and set my feet upon a rock, making my steps secure." Psalm 40:2 (ESV)
In a sun filled courtyard at Mayo Clinic, while my daughter teetered between life and death, I opened my Bible and pulled out my journal. In it I scribbled a couple of questions.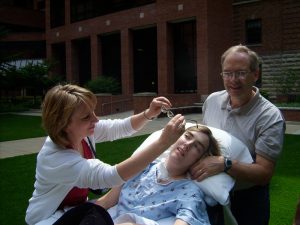 "Where do I want to be spiritually when this is over regardless of how it ends? What do I want to be true in my life from this experience?"
It was like taking a reading of my spiritual temperature and looking forward to healing.
I knew what I didn't want. I did not want to end in bitterness, blame and sinking in a mire of doubt. I wanted to come out at the end stronger in faith and stable in trust. I desired to look back grateful at God's grace and compassion.
I filled pages. Words brought hope of someday being able to look back and see where I'd been and feel solid rock under my feet.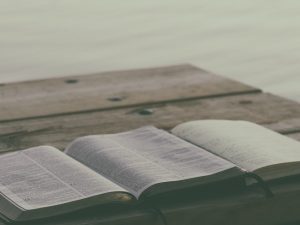 David, with eyes that saw God's hand reaching down in a miry bog of destruction turns his eyes to look at what could be, is and will be. His temperature measured far more than his physical state.
"He put a new song in my mouth, a song of praise to our God. Many will see and fear,
 and put their trust in the Lord. Psalm 40:1-3 (ESV)
What do you want 2020 to look like in the rearview mirror? How do you want to be when this, Lord willing, is a bad night long ago, when playgrounds don't look like crime taped areas and masks aren't all the rage for grocery store customers? What would you like your spiritual temperature to register when the sun comes out again?
Wouldn't it be marvelous if like Psalm 40, regardless of the pain and darkness of 2020, in spite of its creeping destruction, we come out singing new songs of praise? Can't you imagine the testimony it could be and the resulting many who might see and fear God because of a pivotal virus which altered the course of a whole world? What if because of 2020, many put their trust in Him?
I still see 2007 in a bad light, but looking back, the shiny bits are so brilliant I almost squint when I remember. Jesus revealed Himself so many times and in such glorious ways. I can see them more clearly now, time having brushed some of the grief from my vision.
New songs aren't always ones we would choose ourselves, but they bring the kind of praise God uses most.
So, join with me. Take a few moments and check the spiritual temperature of your heart. Once you have your mind clear, think about all those people who are struggling due to Covid 19 and if you can, be part of a coronavirus fundraising to help them out!
Where do you want to be spiritually when this is over regardless of how it ends?