Mud, thick red goop clumped his little shoes like melted cheese oozing out of a sandwich. Hunks of it fell in globs I tried to avoid as I scooped him up. Briefly his legs swung from side to side and in the arc. Piles of wet Virginian soil splattered. He's too heavy to carry now, so I lowered him again to the ground and grabbed his hand to keep him from heading right back in.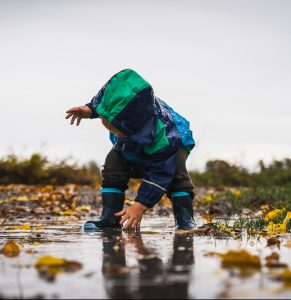 He could have gone around it, but of course he ran straight for the puddle. He chose to go in, to kick up the filthy water and mess in its sticky muck.  
Recently I have felt the heaviness of walking in the mire, the weight of cares, of worries and sorrow clumped around my steps, like the enormous tire of thick mud dropping from my grandson's little shoes. 
Have you also felt it? There is exhaustion from time-worn loss and uncertainty. Things outside of our control burden us. Sadness houses a room inside our hearts, and we cannot seem to swing the door open to joyful trust.  
I look at my grandson pulling at arm's length in front of me and ponder if I do the same. Have I slugged through the quick sand when I should have gone around? Do I need to carry all the goop weighing me down? Is the heaviness in my spirit ok, just part of this journey of becoming more like Christ, or am I weak where I should be strong?  
When we moved overseas, I was a young mom with three little children. Every morning I looked in the mirror and the face looking back swam like a desert mirage. Tears fell. My world rocked. The ground under me felt like quicksand. And the call of God on my life felt heavy. 
My go to verse then was Psalm 40:2, and I still love how David drew from his own cries to a new song, one of hope and confidence. 
"He lifted me out of the slimy pit, out of the mud and mire; he set my feet on a rock and gave me a firm place to stand." Ps. 40:2 NIV
I knew God wanted me to stand on the strange soil underneath. We'd prayed much and worked hard to get there. Yet, being far from family, new culture, strange language, knocked us topsy-turvy, like a comfortable and trustworthy rug had been yanked out. As much as we tried to prepare, we hadn't known what we didn't know until we got there.  
Aren't you glad God knows? 
There were so many gains God had in store. We couldn't see them then. But like the hands which pull a little child up and out of the mud, our Father did the same for us.
Wherever we stand in life, whether the mud and mire is thick like quicksand, or smooth like velvet, He alone is our true rock on which to stand. No situation, station, or even the dearest earthly relationship can be steadfastly firm and unchanging like our God. He alone is our true rock on which to stand. Click To Tweet
So let me ask you, whether you in the clumpy mud or the smooth terrain right now, what hope gives you a firm place to stand?